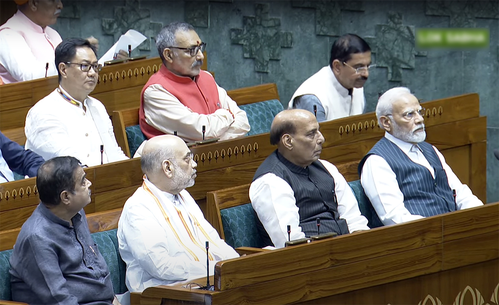 New Delhi: As part of the proceedings on the first day in the new Parliament complex, the Narendra Modi government introduced the much awaited Women Reservation Bill.
While Union Law Minister Arjun Ram Meghwal was presenting the 'Nari Shakti Vandan Adhiniyam 2023' (the Women Reservation Bill) in the Lok Sabha, several opposition MPs including Congress MPs Adhir Ranjan Choudhary, Gaurav Gogoi and Asaduddin Owaisi started creating a ruckus over not getting a copy of the bill.
Responding to them, Lok Sabha Speaker Om Birla said, "This is the era of new technology, and it (the Bill) has been uploaded on the tab, the MPs can see it on the tab from their seats." Union Parliamentary Affairs Minister Pralhad Joshi and Arjun Ram Meghwal, while rejecting the allegations of the opposition MPs, said that this bill is included in the Supplementary List of Business and the MPs can see it in the tab. Many Union ministers including Smriti Irani were also seen telling the opposition MPs that the bill was visible in the tab.
Many MPs and ministers opened the tab in front of them and found it themselves, while many staffers present in the House were also seen helping the MPs.
During this, Union Home Minister Amit Shah moved towards Rajnath Singh sitting next to Prime Minister Narendra Modi and was seen telling him where it could be found in the tab.
Asaduddin Owaisi went to Samajwadi Party MP ST Hasan and was seen explaining to him about the functioning of the tab.
BJP MP Nishikant Dubey was also seen going to the seats of opposition MPs and telling them about this.
IANS