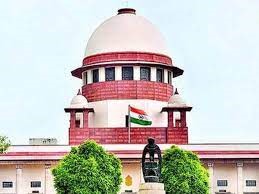 New Delhi: The Supreme Court has come to the rescue of a 75-year-old man who was convicted after 40 years in a 1983 murder and rape case.
In its recent order, a bench comprising Justices Abhay S. Oka and Pankaj Mithal granted bail to the elderly man considering the 40-year delay in the trial and "peculiar feature" of the case.
"Considering the delay in disposal of the trial, the fact that the occurrence is of the year 1983 and the present age of the appellant, he deserves to be enlarged on bail, pending the final disposal of the appeal before the high court on appropriate stringent terms and conditions," the bench said.
The bench said that normally, the apex court should not issue directions to the high court to fix a time schedule to decide any case, but looking at the 40-year delay in trial, it requested "the high court to give out of turn priority to the disposal of the appeal in accordance with law."
The Supreme Court directed that the appellant should not seek any unnecessary adjournments and will "cooperate with the high court for early disposal of the appeal."
"In the event, the hearing of the appeal is delayed on account of the default on the part of the appellant, it will be open for the respondent (police) to apply to the high court for cancellation of the bail," it clarified while allowing the appeal.
The appellant, who is a member of the bar, was convicted after a delay of 40 years in April this year while he remained out on bail during the entire period of trial.
In its impugned decision, the Calcutta High Court in May this year had refused to suspend the sentence of the appellant in view of the "materials on record and the gravity of offence" saying that his conviction cannot be said to be perverse.
IANS