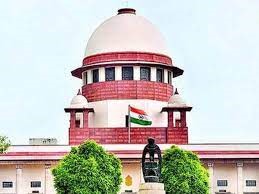 The Supreme Court on Friday stated that Punjab and Haryana High Court judgement, that a Muslim girl aged 15 years can enter into a legal and valid marriage as per personal law, should not be relied on as a precedent in any other case.
A bench of Chief Justice D Y Chandrachud and Justice P S Narasimha passed the interim order while issuing notice in a special leave petition filed by the National Commission for the Protection of Child Rights (NCPCR) challenging the judgment on the ground that it goes against the Protection of Children from Sexual Offences (POCSO) Act.
"We are inclined to entertain these writ petitions.  Pending further orders, impugned judgment (of HC) shall not be relied upon as precedent," the bench said.
Solicitor General of India Tushar Mehta, appearing for the NCPCR, expressed concerns about using personal law as a defence for crimes under POCSO Act. "Can there be a defence of personal law? Can you plead custom or personal law as a defence against a criminal offence?" he asked. "We are on the question if the marriage will be valid at all in the face of criminal law existing and the POCSO Act," he added, according to LiveLaw.
CJI Chandrachud agreed to issue notice in the matter and tag it along with the earlier similar petitions filed by the NCPCR against other High Court judgments which have taken the same view. The SG requested the bench to stay the judgment in the meanwhile.
However, CJI Chandrachud pointed out that if the judgment is stayed, the girl might be restored to her parents against her wishes, reported LiveLaw. "Her parents wanted her to marry her maternal uncle. What will happen is, the moment we stay is she will be restored to her parents, which she does not want".
The Punjab and Haryana High Court had passed the order while hearing a habeas corpus petition filed by a 26-year-old man against the detention of his 16-year-old wife in a children's home in Panchkula. It observed that 15 years is the age of puberty of a Muslim female, and she can on her own willingness and consent marry a person of her choice after attaining puberty, according to NDTV. Such a marriage would not be void in terms of Section 12 of the Prohibition of Child Marriage Act 2006, it said.
It can be noted that the Kerala High Court has recently observed while upholding an underage marriage – below 18 year of age – of a girl Muslim personal law are not excluded from POCSO Act. It said that if one of the parties to such a marriage is a minor, the criminal offence under POCSO will be attracted, regardless of the validity of the marriage un under the personal law.
-INDIA NEWS STREAM