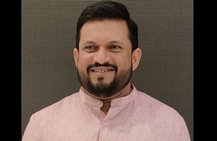 New Delhi: Disqualified Lakshadweep MP Mohammed Faizal has knocked the doors of the Supreme Court against a fresh order of the Kerala High Court refusing to suspend his conviction in an attempt to murder case.
On Tuesday, a bench of Justice N. Nagaresh of the high court passed an order plainly suspending the sentence of four persons, including Faizal, who were earlier convicted by the trial court in January this year.
In wake of the decision passed by the high court, the Lok Sabha Secretariat on Wednesday issued a notification saying that Faizal has ceased to be a member of the House as per Article 102 (1) (I) of the Constitution and Section 8 of the Representation of the People Act, 1951.
The special leave petition filed by Faizal before the Supreme Court said that the recent decision of the high court failed to appreciate that the electorate of the Union Territory of Lakshadweep would also suffer grave prejudice and hardship if his conviction is not suspended.
The plea, filed through advocate K.R. Sasiprabhu, stated that the 2009 incident is clearly a "political dispute", where the petitioner belongs to the Nationalist Congress Party (NCP) and the four eye-witnesses, including the complainant, belong to the Indian National Congress (INC).
The matter is most likely to be taken up for hearing on October 9.
It may be recalled that Faizal was disqualified on one more occasion in January this year following his conviction by the trial court.
However, the Kerala High Court stayed the conviction later in the month but his membership was not restored and he approached the Supreme Court. Before the matter could be taken up by the apex court, the Lok Sabha in March 2023 reversed the disqualification order.
Aggrieved with the decision passed by the high court suspending Faizal's conviction and sentence till disposal of his appeal, the Union Territory (UT) administration filed a special leave petition before the Supreme Court.
On August 22, the Supreme Court set aside the order of the Kerala High Court noting that the decision was taken on extraneous considerations and asked the the court to decide Faizal's plea afresh within a period of six weeks.
IANS