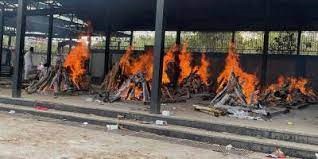 For representational purpose
'Even in the twenty-first century, we are left grappling with casteism'
India is still "unable to break the shackles of casteism
Even secular government is forced to provide for separate burning and burial grounds
Death levels all. The Madras High Court in a significant ruling tried to convey the message by urging the Tamil Nadu government to make common burial grounds for all communities, Live Law reported on Thursday.
A division bench of Justices R Subramanian and K Kumaresh Babu lamented that even after 75 years of Independence, the country is still "unable to break the shackles of casteism and even the secular government is forced to provide for separate burning and burial grounds on communal lines".
Separate burial grounds have been made in the village for Scheduled Castes and Scheduled Tribes and Backward Class communities.
"Equality has to commence at least when the person travels to his/her maker," the court said, setting aside a lower court's order that allowed the exhumation of a dead body that was buried, allegedly on a plot designated as a cart track and not a burial ground at Navakurichi village in Athur in Salem district, reported The Wire.
The bench, however, cautioned that the "no prohibition" criteria should not be used as a license to bury or dispose of bodies anywhere, Live Law reported.
"Wherever there are designated places for burial and burning of the corpse, burial and burning must be restricted to those designated places unless there is a custom in the village or area concerned to use any other place for burial or a burning of corpses," it said.
The court urged the state government to make a "good beginning" by making burial grounds and crematoria common for all.
"But even in the 21st century, we are left grappling with casteism and classification based on caste is made even in matters of burial of the dead. This situation has to change and the change should be for the better. We sincerely hope that the Government of the day would come forward to make a beginning by making at least burial grounds and burning grounds common to all communities," the high court said.