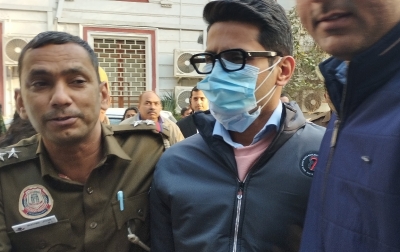 New Delhi: A Delhi court on Wednesday denied bail to Shankar Mishra, who is accused of urinating on an elderly female co-passenger, while in a drunken state, on a New York-New Delhi flight in November last year.
Metropolitan Magistrate, Patiala House courts, Komal Garg, who had reserved the verdict earlier, rejected the plea, saying that the alleged act of accused of relieving himself upon the complainant is "utterly disgusting and repulsive" and the act itself is sufficient to outrage the modesty of a woman.
"The egregious conduct of the accused has shocked the civic consciousness and needs to be deprecated," it said, noting that the accused was voluntarily drunk and had consumed alcohol during the night and the said fact has not been denied by him.
"It has also come on record that accused has tried contacting the victim and the possibility of accused influencing the witnesses cannot be ruled out. Further, as per the report of the IO, the other witnesses are yet to be interrogated and the investigation is at a very initial stage," the court said.
Appearing for Mishra, advocate Manu Sharma stated before the court that Delhi Police registered an FIR in only one non-bailable offense, while others are bailable offenses.
The Public Prosecutor opposed the accused's request for bail on the grounds that the accused is a powerful individual and, if granted bail, could sway the complainant.
The PP also said that the police have filed a revision petition against denial of police remand and that is listed for Thursday. The court was further told that statements of three crew members and two-three passengers are yet to be recorded.
The complainant's lawyer contended that intoxication could never be used as an excuse, adding that the court has to examine whether bail can be granted to an offender who first apologised but later recanted.
The lawyer also told the court that the accused's father had messaged the victim on WhatsApp saying karma will hit her but later deleted the message.
On January 7, the court sent Mishra to 14 days judicial custody.
Mishra has been booked under Sections 510 (misconduct in public by a drunken person), 509 (insulting the modesty of a woman), 294 (sings, recites or utters any obscene song, ballad or words, in or near any public place), and 354 (intending to outrage modesty) of the Indian Penal Code as well as a section of the Aircraft Rules Act in a case registered at the IGI Airport police station.
IANS