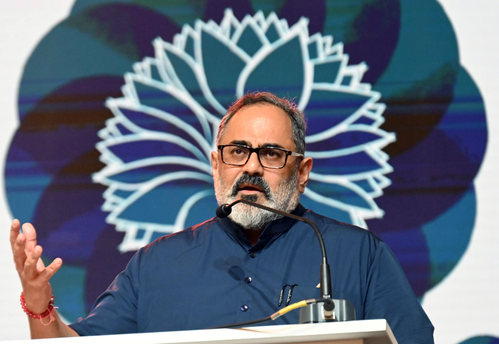 New Delhi: The upcoming $2.75 billion Micron Technology's facility in India proves that the growth in the country's semiconductor ecosystem will soon manifest itself in myriad ways, propelling the country into the top tier of advanced semiconductor manufacturing in years to come, Union Minister of State for Electronics and IT, Rajeev Chandrasekhar, said here on Friday.
Ahead of the US-based Micron Technology's "Bhoomi Pujan" for its Rs 22,500 crore unit in Sanand, Gujarat, on Saturday, the minister said the overall semiconductor system will grow slowly and steadily in the country and Micron breaking ground for its assembly and test facility is a significant milestone towards that.
"Micron is a case being made by manufacturers that India today represents a very trusted hub in the overall global supply chain. India is a huge market for their products and post-G20 Summit, chip manufacturers know that semiconductor plants in the country will cater to the world's demands in a trusted, seamless manner," the minister emphasised.
Micron Technology has committed to investing up to $825 million in building a new semiconductor assembly and test facility in India, with support from the Indian government.
The combined investment of $2.75 billion is projected to create around 5,000 direct jobs and offer 15,000 community job opportunities over the next five years.
Dholera in Gujarat has been designated as the future home of India's first "semicon city".
In July, Prime Minister Narendra Modi promised 50 per cent financial assistance to players wishing to set up semiconductor manufacturing facilities in the country.
At the SemiconIndia 2023 in Gandhinagar, he had said that "we are continuously carrying out policy reforms to accelerate the growth of the country's semiconductor sector".
Highlighting the country's vast talent pool and skilled engineers, Modi stressed on the nation's global responsibility and efforts to bolster the semiconductor sector.
He cited the recent initiatives like the approval of the National Quantum Mission and the introduction of semiconductor courses in over 300 colleges, aiming to produce more than 100,000 design engineers within the next five years.
The Assembly, Test, Marking and Packaging (ATMP) of the company is being set up on 93 acres in Sanand GIDC-II industrial estate and is expected to be commissioned within 18 months. The facility will focus on transforming wafers into Ball Grid Array (BGA) – integrated circuit packages, memory modules and solid-state drives.
According to Chandrasekhar, the next-generation of chips will be AI-optimised.
"Our approach to AI is to ensure real-world use cases in areas like health, government, education in the country," he said.
Another US-based semiconductor company, Applied Materials, has also announced plans to build a collaborative engineering centre in India with an investment of $400 million over four years.
Lam Research, a US supplier of wafer-fabrication equipment and related services to the semiconductor industry, announced a training programme in India for up to 60,000 high-tech engineers.
The three key announcements in the semiconductor sector made during PM Modi's US visit will create a minimum 80,000 to 1 lakh direct jobs in India.
"This is just a beginning as there is more to come as India rapidly grows as a significant and trusted partner to global electronics and semiconductor value and supply chain," said Chandrasekhar.
IANS