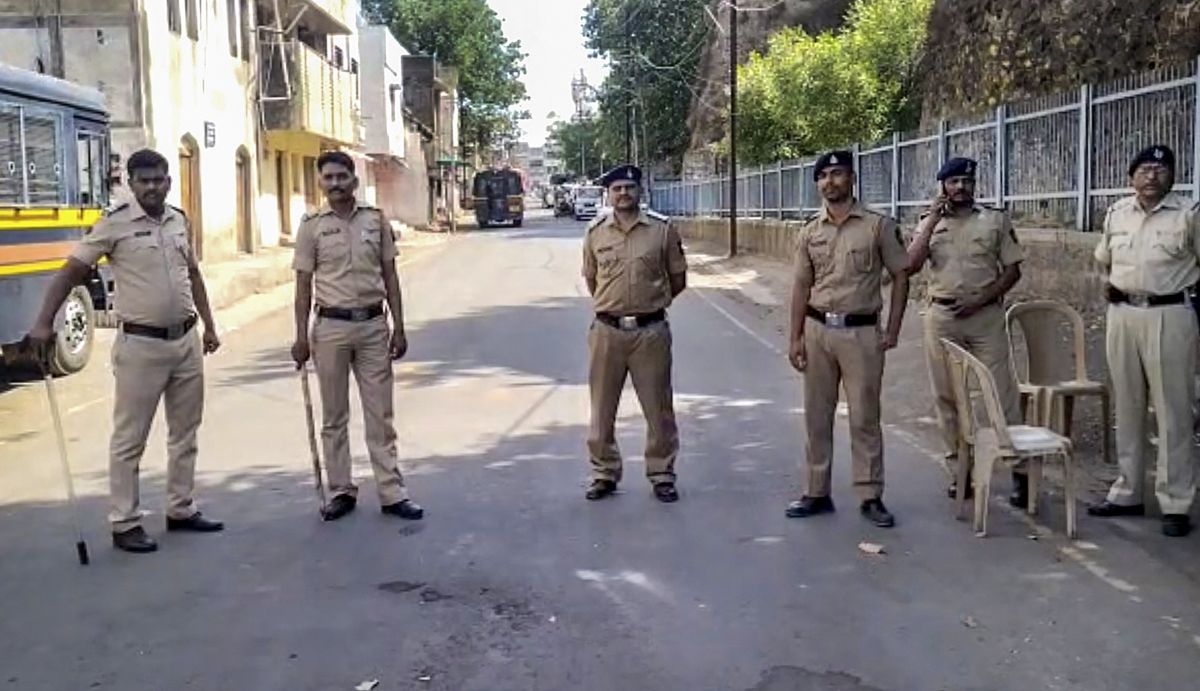 **EDS: TO GO WITH STORY** Akola: Police and other security personnel deployed after a clash broke out between members of two communities over a social media post on Saturday, in Akola, Maharashtra, Sunday, May 14, 2023. (PTI Photo)(PTI05_14_2023_000038B)
Violent clashes and stone pelting between two groups were reported from Maharashtra's Akola following a controversial Instagram post against certain religion, prompting the police to clamp prohibitory orders under Section 144 of CrPc in the district.
One person was killed and eight others, including two cops, were injured in the clashes, police said. The clashes erupted in the Old City police station area of Akola. .
"One person was killed and eight others were injured. Those injured included two policemen who were hurt when the rioters pelted stones," Akola SP Sandeep Ghuge said.
"Clashes erupted between two groups and they pelted stones at each other and vehicles were also torched. Section 144 was also imposed in three different police station areas. Eight people have been injured and immediate police action was taken to control the violence," Ghuge said.
The clashes erupted following a controversial post against a religious figure on Saturday night. The post was later deleted.
According to police sources, a crowd gathered at the Akola police station late on Saturday night in response to an 'offensive' Instagram post criticising a religious leader.
One of the rioters, who sustained injury from stone pelting, died in the civil hospital early on Sunday. The deceased has been identified as Vilas Gaikwad, according to the Hindustan Times. His relatives and son-in-law Mohan Kishan Gondwale have filed a complaint with the local police station. "We are looking into it," said Akola superintendent of police (SP) Sandeep Ghuge, who along with other senior police officials had rushed to the spot to bring the situation under control.
The police registered a case against 120 people in connection with the incident and appealed to the people to maintain peace and not to believe in rumours.
Heavy security was deployed in the city following the incident, ASP Raut said, according to PTI. One thousand personnel of the State Reserve Police from Amravati have been deployed in Akola city, she said.
Police have registered three separate cases of rioting and detained 27 people in this connection, so far. "Now the situation is under control," said Monika Raut, the additional SP of Akola.
Akola district collector, Neema Arora, said, "We have imposed Section 144 of Cr PC in some troubled areas of the city indefinitely in view of the situation."
According to sources, local legislators, Govardhan Mangilal Sharma and Randhir Pralhadrao Savarkar (both from the BJP), visited the spot and appealed to all for maintaining peace and harmony in the area.
As per media report, it is the second such incident in Akola in the past few days. Earlier also, there was a violent clash between two groups in the Shankar Nagar locality of the Akot File area.
-INDIA NEWS STREAM