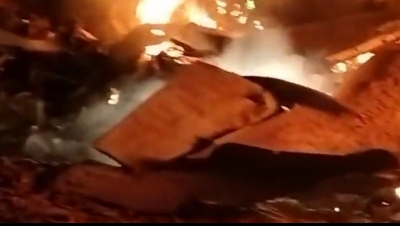 New Delhi (29 July): Two Indian Air Force pilots were killed yesterday, as an IAF MIG-21 trainer aircraft crashed in Rajasthan's Barmer district at 9:10 PM. The aircraft had taken off from Uttarlai airbase for a training sortie and crashed near Bhimda village.
The Indian Air Force gave the news of the crash on twitter. It said: "At 9:10 pm this evening, an IAF MiG 21 trainer aircraft met with an accident in the western sector during a training sortie. Both pilots sustained fatal injuries."
When the two fighter pilots, Flight Lt Advitiya Bal and Wing Commander M Rana, succumbed to injuries the IAF tweeted: "IAF deeply regrets the loss of lives and stands firmly with the bereaved families.  A Court of Inquiry has been ordered to ascertain the cause of the accident."
Rajasthan Chief Minister Ashok Gehlot tweeted: "Deeply saddened to know two IAF pilots have lost their lives in the line of duty when an IAF MiG 21 trainer aircraft met with an accident in Barmer. My heartfelt condolences to bereaved families. May they remain strong to bear this loss. We stand with them and share their grief."
No loss of life among locals was reported, as per Barmer Deputy SP Jaggu Ram.
­–INS