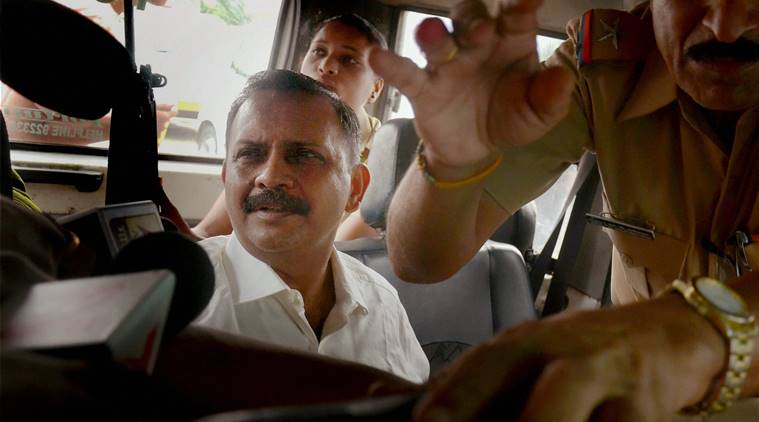 Lieutenant Colonel Prasad Shrikant Purohit
In a significant move, the Bombay high court rejected an appeal filed by Lieutenant Colonel Prasad Shrikant Purohit seeking discharge in the 2008 Malegaon blast case in which six Muslims were killed and more than 100 were injured.
Notably, the court made the caustic remark that causing bomb blast is not official duty.
Purohit and six others, including BJP MP Prgaya Singh Thakur, are facing trial in the case of the blast that killed six people and left more than 100 injured in September 2008. All the accused are currently out on bail.
Col Purohit, the Indian Army officer, sought discharge on the ground that the prosecution did not take sanction under relevant provisions of the Code of Criminal Procedure (CrPC). A bench of Justices A.S. Gadkari and Prakash Naik rejected his plea, saying that sanction from the Union government was not needed because Purohit was "not on official duty".
Among other grounds for seeking discharge, Purohit had claimed a lack of sanction under relevant provisions of the Code of Criminal Procedure (CrPC) to prosecute him.
On September 29, 2008, an explosive device strapped to a motorcycle went off near a mosque in Malegaon, a communally sensitive town in Maharashtra's Nashik district.. According to the Maharashtra Police, the motorbike to which the explosive was strapped was registered in Pragya Thakur's name, which led to her arrest. The National Investigation Agency later took over the probe into the case.
Though the probe was initially conducted by the Maharashtra Anti Terrorism Squad (ATS), it was taken over by the National Investigation Agency (NIA) later.
According to LiveLaw, the chargesheet accuses Purohit and others of wanting to form a government in exile. "They were dissatisfied with the Constitution of India and had wanted to prepare their own constitution," the chargesheet says, adding that Purohit was responsible for procuring RDX – an explosive chemical – from Kashmir.
Neela Gokhale, representing Purohit, submitted during the hearing that the NIA had said that Purohit had informed his superiors about attending meetings of Abhinav Bharat, an organisation which worked to create a Hindu rashtra. Therefore, the lawyer claimed that he was on duty "collecting intelligence for the Indian Army" by attending the meetings, according to Indian Express.
But advocate Sandesh Patil, appearing for the NIA, said the document that Purohit's lawyer referred to support his case was the Army officer's own and not of the agency.
(With agencies' inputs)
-INDIA NEWS STREAM