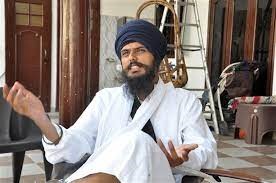 Pro-Khalistani separatist leader Amritpal Singh (File photo)
The story so far: Sikh separatist Amritpal Singh has been on the run for the last two days amid a crackdown on him. Punjab Police has declared him a 'fugitive' and he is on the run since Saturday. The crackdown on Amritpal comes after a meeting between Punjab Chief Minister Bhagwant Mann and Union Home Minister Amit Shah this month. The Centre rushed thousands of central forces personnel to Punjab to beef up the security grid. But, the radical preacher Amritpal slipped past the police net.
Meanwhile, four of his close aides were arrested and were flown to Assam. A total of 78 people have been arrested so far, including six to seven gunmen of Amritpal. Authorities have suspended Internet services in view of possible deterioration of the law and order situation.  Jalandhar police chief Kuldeep Chahal on Sunday said: "It is a chor-police game. We arrested most of his supporters. Somehow, he managed to escape. We will arrest Amritpal Singh soon. Our main motive right now is to maintain law and order."
The pro-separatist leader is always seen with rifles and ammunition belts wrapped around torsos. His emergence around the Golden Temple brought back memories to the days decades back when Khalistani terrorists had taken over the complex under Jarnail Singh Bhindranwale.
Amritpal Singh: Head of radical outfit WPD
The 30-year-old pro-separatist leader became head of Waris Punjab De (WPD) after actor and activist Deep Sidhu died in an accident last year. WPD members are named in a number of cases, including as many as four criminal cases relating to spreading disharmony among classes, attempt to murder, attack on police personnel, and creating obstructions in lawful discharge of duties of public servants. An FIR dated February 24 stands registered against WPD elements for the attack on Ajnala Police Station.
Amritpal and his supporters last month barged into the Ajnala Police Station on the outskirts of the Amritsar city and clashed with police for the release of one of Amritpal's aide — Lovepreet Singh Toofan. The case was related to a complaint of a man at Ajnala Police Station in which he alleged that he had been kidnapped and beaten by the associates of Amritpal, as per the Outlook report. An FIR was registered against Amritpal and six associates in the case.
Pakistan's hand behind Amritpal rise
Pakistan's ISI has been the brain behind pushing Amritpal Singh back to India with an aim to revive terrorism in Punjab, according to officials. He earlier worked in Dubai as truck driver. He threatened Union Home Minister Amit Shah and Punjab Chief Minister Bagwant Singh Mann and also made statements about declaring secession from India and forming Khalistan.
Plans to plunge Punjab into violence
Amritpal has been accused of inciting the Sikhs, urging them to take up arms for a separate land for Punjabis. He also alleged that India discriminated Sikhs and that the latter should strive for the formation of Khalistan.
Amritpal is also alleged to have links with Lakhbir Singh Rode, head of the International Sikh Youth Federation who is sought for trial in India and wanted in cases of Arms Smuggling (including RDX explosive), conspiracy to attack government leaders in New Delhi and spreading hatred in Punjab, according to the Outlook report.  At a function in Moga district Amritpal said that non-Sikh governments have no right to rule over the people of Punjab.