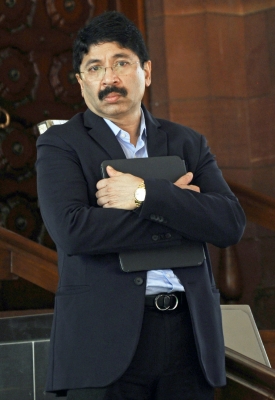 Chennai: DMK leader and Member of Parliament, Dayanidhi Maran has lodged a complaint with the police that Rs 99,999 was stolen from his bank account by cyber criminals.
The former Union Minister for Information Technology lodged a complaint with the Greater Chennai City Police.
Dayanidhi Maran, in a post on X said, "On Sunday Rs 99,999 was stolen from my @Axis Bank personal savings account through a net banking transfer via@IDFCFIRSTBANK-@BillDesk, by-passing all normal safety protocols. An OTP, the standard protocol for such transactions, was neither generated nor received by my linked mobile number. Instead a call was made to the account's joint holder, my wife's number, and the fraudsters had the gall to ask if the transaction had taken place. They pretended to be from the bank but had @cbic_india on their display picture. This confirmed my suspicion and I immediately proceeded to block all activities on my account."
Maran posted, "What puzzles me is how they accessed personal information and breached security protocols with such ease. This isn't a phishing attack nor were any sensitive details divulged. @AxisBank was clueless as to how the attack happened nor could they give any solid explanation for why the OTP was not required from my number for the transaction to take place."
Maran added, "If this can happen to someone who is aware of technology and is cautious with private data, what about first- time digital users and senior citizens? Is anyone's data safe? In the past I have written to Hon'ble FM Tmt@nsitharaman and @FinMinIndia seeking help for cybercrime victims in my capacity as an MP. Today as victim, I demand accountability & Justice."
The DMK leader further said that for India as a country to emerge as a Financial Tech hub, robust security and government action was important.
He also asked as to what action was the government taking to protect the private data of citizens.
The former Union Minister also demanded that the Union Finance Minister, Nirmala Sitharaman, release a white paper on the matter and demanded immediate action on the issue.
IANS