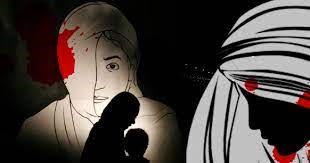 For representational purpose
The accused allegedly stabbed Rekha in the face and neck, and as she resisted, a finger of her right hand was mutilated
The 45-year-old man, identified as Manpreet, who was already married with two children
Police said the suspect might have been inspired by Aaftab Poonawalla
Even as the gory details in the Shraddha Walker murder case have stunned the nation, another incident of similar nature has come to fore in Delhi where a man brutally stabbed his live-in partner to death. The incident took place at Delhi's Tilak Nagar.
The accused was arrested in Punjab, said police and added that the suspect might have been inspired by Aaftab Poonawalla, who is also accused of killing his live-in partner Shraddha Walkar and chopping her body in pieces.
Rekha Rani's body had stab wounds on the jaw and was recovered from her rented house in Ganesh Nagar where she was living with her 16-year-old daughter, reported NDTV. Police said the accused allegedly stabbed Rekha in the face and neck, and as she resisted, a finger of her right hand was mutilated.
The police said that the 45-year-old man, identified as Manpreet, who was already married with two children, had been in a relationship with Rekha in 2015. He lived with her in Ganesh Nagar. After sometime, Manpreet lost his interest in his live-in partner and planned to get away with her. For this, he eliminated her by stabbing multiple times on the night of December 1.
"When she grew suspicious and asked him about her mother, he told her that her mother had gone to the market. She called her cousin and left for the cousin's house in Paschim Vihar. They later found their house in Ganesh Nagar locked and called police. In her statement, the victim's daughter stated that she suspected that Manpreet had harmed her mother and that Manpreet and her mother had been fighting over money for some time," said Ravindra Singh Yadav, Special CP (Crime Branch).
"In 2015, Manpreet met Rekha and moved in with her. He claimed that over time, Rekha started feeling insecure and did not allow him to visit and talk to his family. He planned to kill her and purchased a chopper (cleaver knife) recently to murder her," said a police officer.
Police said he had bought the knife to kill and chop up Rekha's body but feared getting caught by her daughter. Police said Manpreet is also wanted in multiple kidnapping and murder cases.
A case under sections 302 (murder) and 201 (causing disappearance of evidence of offence, or giving false information to screen offender) of the Indian Penal Code has been registered on the woman's daughter's complaint, police said.
-INDIA NEWS STREAM