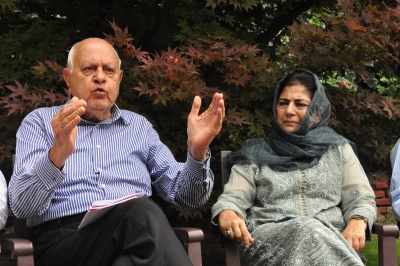 Srinagar: Jammu and Kashmir mainstream political parties on Wednesday opposed the Centre's likely plan to table a bill in the current session of the Parliament reserving seats by nomination for Kashmir Pandits and Pakistan occupied Kashmir migrants in legislative assembly.
The bill likely to be introduced by the government proposes two seats in the legislative assembly for migrant Kashmiri Pandits and one for Pakistan occupied Kashmir migrants living here.
The seats would be nominated by the LG as per the proposed bill and the nominated members would have the power to vote for electing the leader with majority in the house to become the chief minister.
National Conference (NC) Spokesman Tanvir Sadiq has opposed the bill saying that this would be subversion of the democratic process as the LG would have the power to nominate these members and not the elected government.
Peoples Democratic Party (PDP) leader and former minister Naeem Akhtar said that the proposed power to LG members indicates a brazen bid by New Delhi to have veto power in an elected house.
People's Conference Spokesman Adnan Mir also opposed the move saying that the proposed bill intends to equip LG with authority that would bypass all constitutional requirement of seeking advice from the council of minister.
IANS