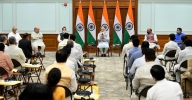 New Delhi: Though the cabinet expansion was undertaken basically keeping in mind the five poll bound states especially Uttar Pradesh from where seven ministers have been inducted, and accommodate those leaders who had in the past few months switched their loyalty to the Bharatiya Janata Party, for example Jyotiraditya Scindia, yet Prime Minister Narendra Modi has, by inducting only one minister from Janata Dal-United once again shown Bihar chief minister Nitish Kumar his true place.

Not only that he put to end all speculations and did not induct Sushil Kumar Modi, arguably the most seasoned saffron party hand having strong RSS link. The two other old Sangh Parivar bigwigs from Bihar who have been shown the door are Minister of Electronics and Information Technology as well as Law, Ravi Shankar Prasad and Minister of State for Health, Ashwini Choubey.

In contrast the Janata Dal-United national president, R C P Singh, who is considered in political circles as someone more close to the BJP leadership than his own boss, Nitish Kumar, has been inducted into the cabinet and so was the leader of breakaway LJP faction, Pashupati Kumar Paras, a totally inexperienced man so far as serving in the Union cabinet is concerned.

But if the exit of Harsh Vardhan—perhaps he became the victim of tussle between the Indian Medical Association and Yoga guru Baba Ramdev–as well as Ravi Shankar Prasad came as a big surprise, the non-inclusion of Sushil Modi was really shocking as he is considered as a person having a fair amount of experience in financial matters, a rarity in the BJP top brass.

As he was the deputy chief minister-cum-finance minister of Bihar for about 10 years and was in July 2011 elected as the chairman of the Empowered Committee of State Finance Ministers which was spearheading the implementation of Goods and Services Tax, he could have been a better person in this hour of crisis. He had a good relationship with the then Finance Minister of India, Pranab Mukherjee, who a year later became the President of the country. This was so in spite of the fact that Mukherjee was a staunch Congressman.

The selection of ministers has such a strong political overtone that two ministers from West Bengal, Babul Supriyo and Debasree Chaudhary were sent packing as they could not help the BJP win the Assembly election.
Instead, three new faces were taken. They are MP from Matua community, Shantanu Thakur, who had also accompanied Modi to Bangladesh in March last. Matuas have strongly voted for the saffron party. That's why he was rewarded.
Besides, two other leaders from the state who have been inducted are from North Bengal where the BJP did very well in the recently held election. They are Nisith Pramanik and John Barla.
The interesting thing is that Anupriya Patel has been re-inducted into the cabinet though her party, Apna Dal, an ally of the BJP in UP, has only two MPs. Apna Dal is considered as a party of Kurmis in Uttar Pradesh.

The Janata Dal-United chief R C P Singh is originally a Kurmi from the Nalanda district of Bihar, the home turf of Nitish Kumar, who also belongs to the same caste. Is it that the BJP is only giving more space to this caste keeping in mind its political importance in North India or is it also that the saffron party wants to groom a leader from the same caste to further cut the stature of Nitish Kumar.

So by giving one berth each to Janata Dal-United, which has 16 MPs in Lok Sabha and five in Rajya Sabha (from where RCP comes), and Lok Janshakti Party which now has five MPs and Apna Dal which has only two members in the Lower House, the Prime Minister has treated all the three equally.

Finally, Raj Kumar Singh, the man who as the District Magistrate of Samastipur, arrested BJP patriarch Lal Krishna Advani on October 23, 1990 at the order of the then Bihar chief minister Lalu Prasad, has been elevated to the Cabinet rank. Never to forget that till 2013 he was the Union home secretary and the term 'Hindu terror' was alleged to be used by him in official parlance. As he was serving in UPA-II he was strongly criticized by the BJP then.