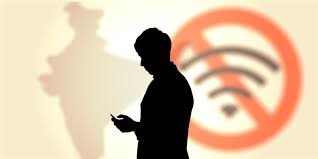 A latest report has said that India continues to remain the internet shutdowns capital in the world for the fifth consecutive year in 2022 with at least 84 disruptions.
International digital rights organisation Access Now in a report released on Tuesday in collaboration with the #KeepItOn coalition has said India accounted for approximately 58% of all documented shutdowns globally since 2016 – more than any other democracy.
Regular internet restrictions make it difficult for people to communicate, prompting the United Nations last year to call for governments to avoid using such a blunt tactic. The situation also incurs significant economic costs.
Raman Jit Singh Chima, Access Now's senior international counsel, said India shut down the internet more than any other country on earth. Singh, who is also Asia Pacific policy director, said: "That is 84 attacks on fundamental rights across the world's biggest democracy. For a country chairing the G20, and on the eve of its pivotal 2024 general elections, these disruptions are jeopardising the future of India's tech economy and digital livelihood ambitions — truly a global shame."
Kashmir tops the list among states/UTs
Under various provisions of laws, the Indian government more often directs telecom companies to shut down services or take down sites. However, major reasons for restrictions included large protests, conflict situations and electioneering.
Jammu Kashmir continues to top the list among states and Union Territories which witness highest, and longest, numbers of shutdowns. The report said: "Authorities [last year] disrupted internet access at least 49 times in Jammu & Kashmir, including 16 back-to-back orders for three-day-long curfew-style shutdowns in January and February." The first recorded internet shutdown in India took place in Jammu and Kashmir in 2012, when authorities suspended internet services during protests against a movie which alleged to have some anti-Islamic contents.  However, other states too witnessed shutdowns. There were 12 shutdowns in Rajasthan, seven in West Bengal, and four each in Haryana and Jharkhand.  According to the report, the authorities "interfered with access during high-profile events such as protests, conflict, school exams, and elections".
Justification for Digital authoritarianism
Union and state governments justify restrictions on information citing law and order situation. The authorities argue that internet remains one of the fastest mediums to spread rumours and disinformation during agitation and conflict, leading to deterioration of situation. Curbs on the flow of information help maintain peace among in times of crisis, they say. However, some experts contest the claims and say that the absence of information actually ends up spreading misinformation even more. Frequent shutdowns incur significant economic losses, businesses and disruptions in educational activities.
What does the law say?
India did not have a codified law to order internet shutdowns until 2017 when new rules were framed in this regard under the Indian Telegraph Act of 1885. These rules – the Temporary Suspension of Telecom Services (Public Emergency or Public Safety) rules – stated that internet shutdowns can now only be ordered by the home secretary of the union or state governments. Shutdowns could be ordered where "necessary" or "unavoidable", during a "public emergency" or in the "interest of public safety", according to Newslaundary, a news monitoring website. The rules indicate that the process is now more difficult and also more transparent. However, on ground, they are rarely applied. District magistrates continue to pass internet shutdown orders, as they did before, under Section 144.
Jan Rydzak, a former associate director at Stanford University's digital policy incubator, is of the view that the internet shutdowns might actually lead to an increase in instances of violence at a protest. There is, however, no known research that internet shutdowns actually help maintain law and order.
Current development
Recently, the Parliamentary Standing Committee on Communications and Information Technology asked the Department of Telecommunications (DoT) and the Union ministry of home affairs (MHA) to ensure the states and Union territories to strictly complied with the Supreme Court's guidelines when imposing internet shutdowns. In 2020, the Supreme Court called access to the internet a fundamental right by extension. With reference to Jammu and Kashmir, the top court pulled up the government and said the blackout cannot go on indefinitely.
-INDIA NEWS STREAM