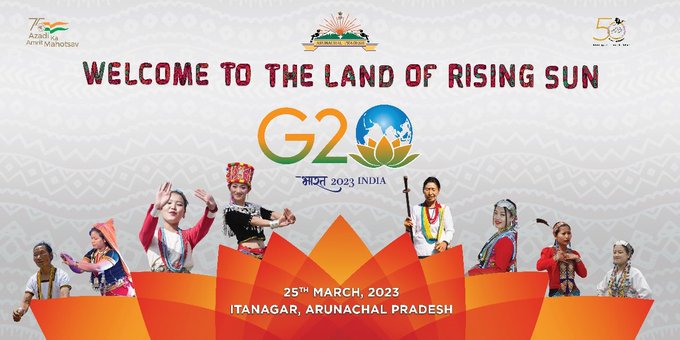 China skipped a confidential G20 meeting on Sunday held in Itanagar, capital of Arunachal Pradesh, a northeastern state that has been a point of contention between India and China for years. The weekend meeting was declared confidential and media coverage was not permitted. As many as 50 delegates from different countries attended the meeting, organised by the Science and Technology department with the theme "Research, Innovation initiative, Gathering". It was amongst the multiple events planned across 50 major cities ahead of the G20 summit in Delhi in September.
Context
China has said that the border dispute with India is a bilateral issue and that foreign interference will not help solve them. India and China have been involved in a border conflict since 2020 because of differences over the Line of Actual Control (LAC). A conflict in Ladakh's Galwan Valley in 2020 allegedly resulted in the deaths of 20 Indian soldiers, worsening the situation after nearly five decades. India has often refuted Chinese claims.
China doesn't recognize India's sovereignty over Arunachal
The delegates also visited Arunachal Pradesh legislative assembly and a Buddhist monastery. China doesn't recognize India's sovereignty over the state and instead claims the region is part of South Tibet. Chinese Chargé d'Affaires was quoted by ANI as saying: 'Border issue between India and China is a bilateral issue, both countries have the wisdom to resolve the issue, we can handle that, we don't invite any other, especially from other regions to interfere in this bilateral dispute, and whether foreign interference is helpful to resolve the issue, anytime you see there is interference in bilateral dispute, on the contrary, it will not help the two sides to solve the problems."
Pakistan lobbying against G20 meet in J&K
On the other hand, Pakistan too has been lobbying to prevent a G-20 summit on culture in Jammu and Kashmir to be held in May. It has requested assistance from China, Turkey, and Saudi Arabia in preventing India from hosting the conference in Srinagar. For Islamabad, it is an opportunity to raise the Kashmir issue at a time where world leading powers are holding meet across India. Earlier this month, China's Foreign Minister Qin Gang visited India for the G20 foreign ministers' conference in Delhi.
It is worth mentioning that the Indian and Chinese forces in December last year battled along the LAC in the state's Tawang sector, escalating a months-long border impasse in eastern Ladakh. Defense Minister Rajnath Singh later accused China of attempting to "unilaterally" alter the status quo along the LAC.
-INDIA NEWS STREAM