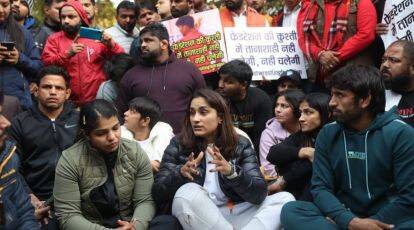 Wrestlers' sitting on a dharna against the Wrestling Federation of India in New Delhi on Wednesday. (File phot)
The Wrestling Federation of India (WFI) on Saturday rejected the charges of sexual harassment leveled against its president Brij Bushan Sharan Singh. The Union sports ministry had sought an explanation from WFI on Wednesday.
The WFI's Assistant Secretary, Vinod Tomar told news agency that the wrestlers, who are sitting on a protest demonstration at Delhi's Jantar Mantar, have not produced any evidence to support their claims.
Following a format complaint to the Indian Olympic Association (IOA), the PT Usha-headed apex sports body announced a seven-member committee headed by boxer MC Mary Kom to go into the allegations.
The explanation to the Union sports ministry, signed by WFI general secretary VN Prasood, stated: "Any aggrieved person/wrestler may approach the said (WFI's sexual harassment) committee for its grievances if any, which committee is bound to inquire as per law. However, no such complaint of any such nature as has been aired by the protestors/wrestlers has been received so far. Hence, any such media reports without any specific complaint received can never be taken note of by the WFI Sexual Harassment Committee nor such allegations can be affirmed nor confirmed except to be denied having been so made as a kind of motivated, biased, unfounded, untrue and false bald allegations solely with a view to harm the President, WFI or the Coaches of WFI."
The WFI said its work has enhanced Indian wrestling at national and international levels. "… And for the record of this Ministry it is not possible without fair, supportive, clean and strict management of the WFI… ," it says.
The Hindustan Times, quoting the reply of the WFI, stated that the "sitting management of WFI is wrestling oriented and not wrestlers centric except to help and support wrestlers… and does not allow whims and fancies of any one including either of the coaches or of the wrestlers as the management of WFI is committed for promotion of wrestling … there is no scope for any arbitrariness and mismanagement of WFI except taking care of and/or acting in the best interest of the wrestling as well as wrestlers as per the policy, rules, regulations, instructions etc., of the WFI or the Govt. of India or of any international body.
The revolt by the top wrestlers, Olympic medallists Bajrang Punia, Ravi Dahiya and Sakshi Malik, and world championships medallists Vinesh Phogat and Deepak Punia, saw two meetings with union sports minister Anurag Thakur and sending a formal complaint of sexual harassment and other charges against Singh to the IOA.
-INDIA NEWS STREAM