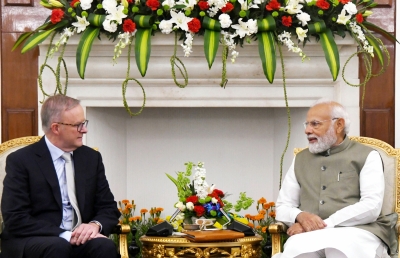 New Delhi: Prime Minister Narendra Modi on Friday raised the issue of incidents of attacks on temples in Australia with his Australian counterpart Anthony Albanese.
Modi raised the issue during the course of bilateral talks between the two leaders.
"It is a matter of regret that reports of attacks on temples have come regularly from Australia over the past few weeks. It is natural that such news worries everyone in India, disturbs our mind," Modi said during a joint press briefing with Albanese after bilateral discussions.
"I conveyed these feelings and concerns to Prime Minister Albanese and he has assured me that the safety of the Indian community is of special priority for him. Our teams will be in regular contact on this matter, and will cooperate as much as possible," Modi added.
IANS