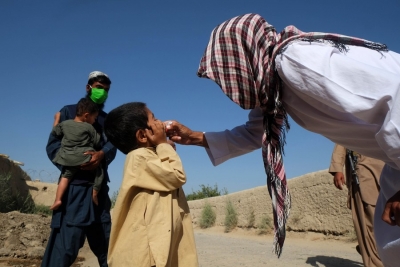 Representational Image
With rescuers from multilateral agencies desperately struggling through the pouring rain to try and extricate people trapped under rubble after a powerful earthquake hit the mountainous border regions of Paktika province of Afghanistan on June 22, killing over 1,000 people, it appeared even nature had turned its back on the people of that country. The humanitarian crisis afflicting the country's population in the 10 months since the Taliban took over the country has worsened the chances of saving the people found alive.
India immediately offered assistance and, late Thursday (June 23), sent a military aircraft carrying relief material for those afflicted along with "a technical team" which has been deployed to its embassy in Afghanistan, to be part of those humanitarian rescue efforts. Although India does not have an official presence in Afghanistan ever since its diplomatic personnel left the embassy after the Taliban takeover in August 2021, the 'technical team' is likely to coordinate humanitarian efforts directly on the ground.
According to an official statement from the spokesman for the Ministry of External Affairs, the "technical team" arrived at the Indian embassy in Kabul to "closely monitor and coordinate the efforts of various stakeholders" for the effective delivery of humanitarian assistance. The statement said India has a "historical and civilisational relationship with the Afghan people".
"In order to closely monitor and coordinate the efforts of various stakeholders for the effective delivery of humanitarian assistance and in continuation of our engagement with the Afghan people, an Indian technical team has reached Kabul today and has been deployed in our Embassy there," the statement said.
India has been mulling the idea of restoring a diplomatic presence in Kabul and, earlier this month, had sent an official delegation to explore the prospects of reviving its mission, without recognizing the Taliban government.
JP Singh, Joint Secretary in the Pakistan Afghanistan and Iran (PAI) division of India's Ministry of External Affairs, led the official delegation which called on the Islamic Emirate's foreign minister Amir Khan Muttaqi in Kabul on June 2. The intent was to explore the possibility of reopening India's diplomatic mission in Afghanistan to better coordinate the supply of humanitarian aid and even reopen trade ties. Taliban Minister Muttaqi, who apparently assured that security would be provided, called the meeting "a good beginning in ties" between Afghanistan and India.
The lack of an official presence in Afghanistan for 10 months has hampered Indian efforts to provide assistance to the Afghan people, who are facing their worst ever humanitarian crisis, with limited access to basic food and funds. According to a United Nations report last month, nearly half the Afghan population is facing acute hunger. The war in Ukraine has further hit the global food supply chain.
The U.N.'s World Food Program estimates that around 18 million people will be in need of urgent food assistance in Afghanistan in June. That number is likely to include close to 10 million children. Reports suggest that mounting hunger and spiralling poverty have forced desperate families into unthinkable scenarios, which include forcing families to put their young children to work and to seek dowries for girls as child brides.
The Afghan economy has been ravaged by the stoppage of almost all international aid and because inept attempts by the Taliban to revive any semblance of economic activity has not worked. This has been primarily because the entire international community has chosen to not deal with them after they reneged on their word to uphold basic human rights and grant some opportunities to women to study and work. India has sent wheat and essential medicines, but is not in a position to do more from the outside.
Despite the recent official level exploratory visit and the deployment of the technical team to assist in humanitarian efforts, it is unclear if India will restore its diplomatic presence there, given the serious security challenges it faces. In fact, the weekend terrorist attack on the Sikh Gurudwara in Kabul served as a reminder of the security threats India faces and, according to reports, could have been a setback in efforts to restart India's diplomatic presence there. The attack clearly demonstrates that the Taliban have not managed to control terrorist forces of ISIS and Al-Qaeda operating within Afghanistan, despite their pledges to do so. India's immediate grant of e-visas to 111 Afghan Sikhs and Hindus who sought to return after the latest attack indicates New Delhi's distrust of the Taliban's pledges of providing security. Given their close ties with the establishment in Pakistan, it is possible the Gurudwara attack was intended to thwart Indian plans to revive its diplomatic presence there.
Other than humanitarian concerns for the people of that country, India has major strategic interests in Afghanistan and giving up its diplomatic presence there has been a huge diplomatic setback for New Delhi. From former Afghan President Hamid Karzai to former diplomats, a host of voices have urged India to remain engaged with Kabul by restoring its physical presence there.
However, citing its very genuine security concerns to stay away from the ravaged country in which it has invested so heavily, India has ceded ground to others inimical to its own interests and its Neighbourhood First policy has suffered a hard knock. But, more important, India has lost its pride of place as the most popular country among the Afghan people who feel India has abandoned them in their hour of greatest need.
The deployment of a technical team at its embassy premises on the ground in Kabul could well be the start of the restoration of that crucial re-engagement with Afghanistan. It will take India years to revive the faith and that goodwill among its friends and the people of Afghanistan. – INDIA NEWS STREAm