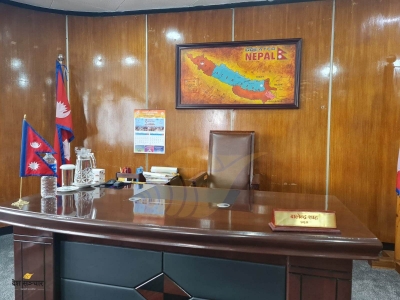 Kathmandu: As the row over India's 'Akhand Bharat Map' placed in the new Parliament building is intensifying among the opposition parties in Nepal, Kathmandu Mayor Balendra Shah has put a new 'Greater Nepal' map in his office as a counter move.
Although the Nepal government as remained silent on the issue, the opposition parties, including the CPN-UML, have opposed the map which shows the Himalayan nation as part of the ancient Indian landmass.
They have and asked the government to take up the matter with India.
Mayor Shah, who is currently in Bengaluru for his wife's treatment, had placed the map in his office before his visit to India.
At one time, the territory of Nepal was spread from the Teesta in the east to the Sutlej in the west. However, after the war with the British, Nepal lost a large part of its land.
After the war, the territories from Mechi to Teesta and from Mahakali to Sutlej were permanently annexed to India.
On March 4, 1816, the Sugauli Treaty was signed between Nepal and the East India Company, which reduced the territory of Nepal to Mechi-Mahakali.
The 'Greater Nepal' map in Shah's office incorporate areas from East Teesta to West Kangra which is currently Indian territories.
Voices are still being raised that India should return those lands to Nepal.
Nationalist activist Phanindra Nepal has been campaigning for Greater Nepal for a long time.
On Thursday, Gagan Thapa, General Secretary of Nepali Congress, the largest party in Parliament, said that the country should also official publish the 'Greater Nepal' map.
"If any county publishes the cultural map and moves ahead, Nepal also holds the right to publish the map of Greater Nepal and think over it. If Nepal thinks of publishing the new map, India should not object to it. Rather it should accept it," Thapa added.
Amidst the ongoing row, Prime Minister Pushpa Kamal Dahal on Wednesday came to India's defence over the 'Akhand Bharat' map, saying it was not a political issue.
In an address to the National Assembly, Prachanda, as the Prime Minister is popularly known, said that he had raised the issue during his recently-concluded India visit.
"We raised the issue of the new Indian map which is placed in Parliament. We have not made a detailed stud but as reported in the media, we raised this issue on a serious note. But in its response, the Indian side said that it was a cultural and historic map and not a political one. This should not be seen as a political way. It needs to be studied. But I have raised it," he said.
Boundary disputes have been taking place in the areas of Kalapani, Lipu Lekh and Limpiydhura which are currently under Indian territory that Nepal also lays claims to.
In response to Indian claims, the Nepal government in 2020 issued a new political map incorporating the areas as part of its territory.
This dispute brought bilateral ties to an all time low.
IANS