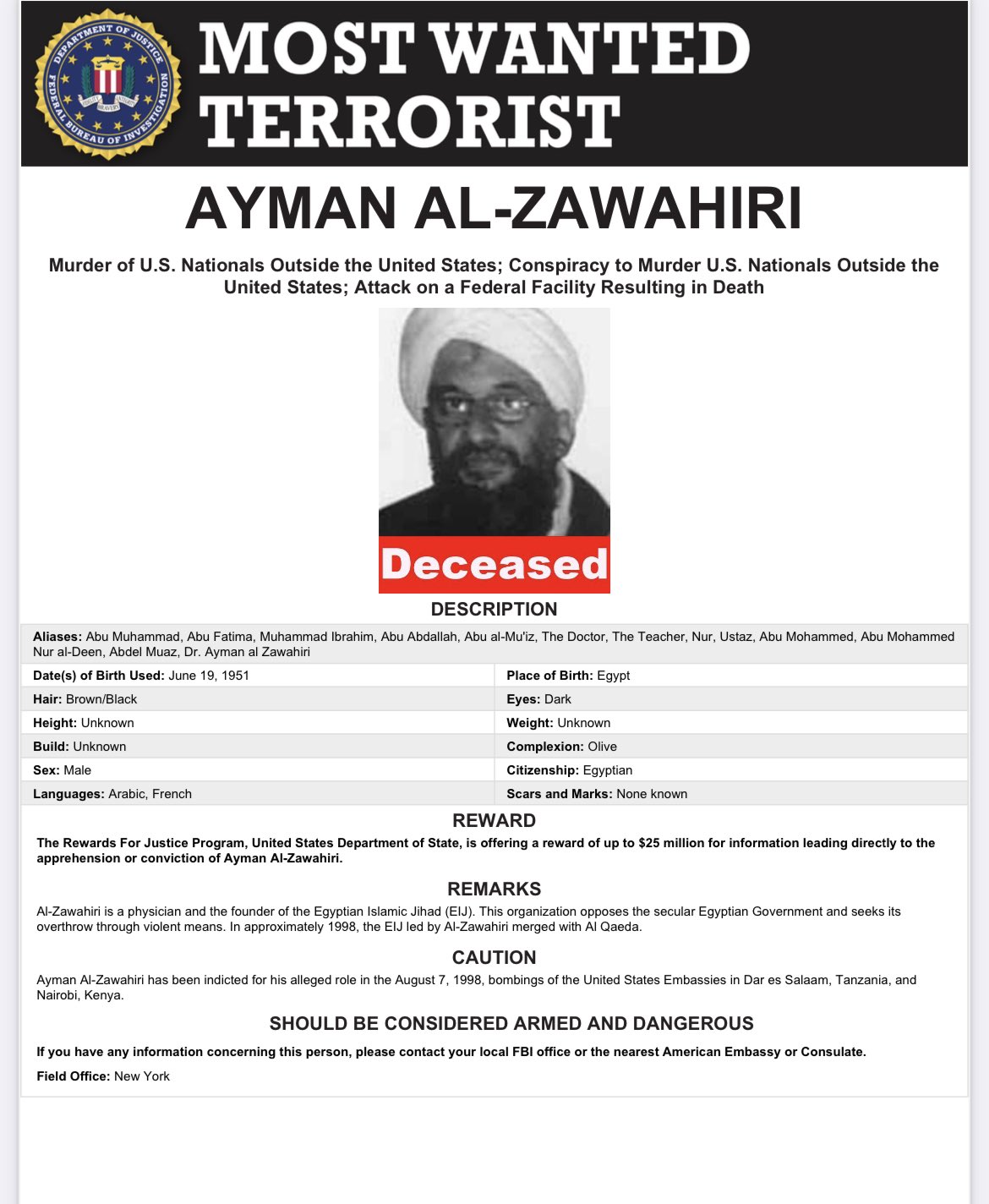 Source: Jim Sciutto Twitter
President Joe Biden on Monday informed that a U.S. missile strike over the weekend has killed one of the world's most wanted terrorists, Ayman al-Zawahiri, who headed Al-Qaida, the terror outfit responsible for the 9/11 attacks.
Who was al-Zawahiri
Al-Zawahiri, who would often appear in videos in a bid to recruit more Muslims into his terror network, was number two in the 22 "most wanted terrorists" list announced by the US government in 2001 and had a $25m bounty on his head. Born in Egypt in 1951 to a wealthy family and trained as a surgeon, Zawahiri, took over the terror group in 2011. Before that, he was said to be Osama bin Laden's personal doctor. Zawahiri succeeded Osama bin Laden as al-Qaeda leader after years as its main strategist. According to the BBC, Zawahiri's father, Mohamed al-Zawahiri, was a pharmacology professor in the same university. His grandfather was the grand imam of al-Azhar, centre of Islamic learning in west Asia. Zawahiri was first arrested when he was 15 years old for being a member of the outlawed Muslim Brotherhood. Zawahiri was attracted towards radicalism soon after his studies. He joined the Egyptian Islamic Jihad in 1973 – the same year it was founded. He would later join this group with al-Qaeda in the early 90s, as per reports.
How the plan to kill al-Zawahiri was made
United States President Joe Biden and a close circle of senior advisors secretly planned the operation to kill al-Zawahiri for months. According to sources, over several months, intelligence officials grew more confident that they had correctly identified Zawahiri at the Kabul safe house and in early April started briefing senior administration officials. Jake Sullivan, National Security Advisor, subsequently briefed President Joe Biden. "We were able to build a pattern of life through multiple independent sources of information to inform the operation," the official said. He was standing on the balcony of a safe house in Afghanistan's Kabul when hit by two Hellfire missiles. A tight circle of senior inter-agency lawyers examined the intelligence reporting and confirmed that Zawahiri was a lawful target based on his continuing leadership of Al Qaeda.
President Biden on July 25 convened his key Cabinet members and advisors to receive a final briefing and discuss how killing Zawahiri would affect America's relationship with the Taliban, among other issues, the official said. After the successful operation, Biden said, "Now, justice has been delivered". He added: "We make it clear again tonight that no matter how long it takes, no matter where you hide, if you are a threat to our people, the United States will find you and take you out."
Importance for India
While Zawahiri's killing is crucial for the global war on terror, it was also important for India. He mentioned India several times in his video postings over the years with the latest being the one on the hijab row. He had posted a nine-minute video of himself praising Muskan Khan, the young woman from Karnataka, for her valiant reply to the Hijab controversy. While it caused concern in certain sections, Muskan's father swiftly reacted to the video saying "We do not know who he is and why he is involved in an issue of my country." But the Muslim girls swiftly rejected his support stating that their fight was within the limit of Indian Constitution.
Taliban condemns attack
The Taliban swiftly condemned the US operation. "The Islamic Emirate of Afghanistan strongly condemns this attack on whatever the pretext," Taliban spokesman Zabihullah Mujahid said in a statement, using the official name for the Taliban government. He denounced the strike as a "blatant violation of international principles and the Doha agreement," referring to the 2020 talks that Taliban leaders held with the United States and Western leaders in Qatar over the withdrawal of U.S. and allied troops the following year.
As per a report by the UN Security Council, dated July 15, 2022, Al Zawahiri's apparent increased comfort and ability to communicate has coincided with the Taliban's takeover of Afghanistan and the consolidation of power of key al-Qaeda allies within their de facto administration.