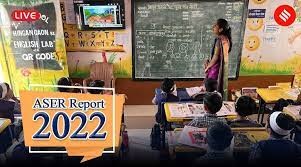 As many as 3,74,544 households and 6,99,597 children in the age group 3-16 were surveyed
The decrease in the proportion of girls not enrolled in school is even sharper among older girls in the 15-16 age group
Large drops are also visible in Andhra Pradesh (from 22.6% to 10.3%) and Telangana (from 18.1% to 5.2%)
The basic reading ability of children in age group 5–16-year-olds enrolled in both government and private schools across the country have sharply dropped during the coronavirus pandemic even as overall enrollment has increased, according to Annual Status of Education Report (ASER) survey released on Wednesday.
The ASER 2022 report, led by Pratham Foundation, highlighted that despite the prolonged closure of schools, the enrollment in schools across the country has increased, with 98.4% in the age group of 6-14 years currently enrolled in schools. The figure stood at 97.2% in 2018. The report also pointed out a decrease in the percentage of out-of-school girls across the country.
The ASER 2022 resumed its survey nationwide after a gap of four years, reaching 19,060 villages across 616 districts. The last ASER report based on the physical household surveys was released in 2018.
Reading Ability
The children's ability to read has shown a fall of nearly seven percentage points in 2022 as compared to ASER 2018 in which 27.5 percent Class 3 children could read a Class 2 textbook. The reading ability of children has fallen even below the 2012 level when 21.4 percent of Class 3 students could read Class 2 textbooks.
The states like Haryana (from 46.4% to 31.5%), Kerala (from 52.1% in 2018 to 38.7% in 2022), Himachal Pradesh (from 47.7% to 28.4%) shows a drop of more than 10% points in reading ability of Class 3 children. Andhra Pradesh (from 22.6% to 10.3%) and Telangana (from 18.1% to 5.2%) also recorded large drops in the reading ability of Class 3 children. The report recorded a similar fall in reading levels among class 5 children.
States showing a decline of more than 10 percentage points from 2018 levels include those that had higher reading levels in 2018 namely Kerala (from 52.1% in 2018 to 38.7% in 2022), Himachal Pradesh (from 47.7% to 28.4%), and Haryana (from 46.4% to 31.5%).
Enrolment increase
There has been an improvement in enrollment levels of children in the age bracket of 6 to 14 years have gone from 96.6% in 2010 to 96.7% in 2014 and 97.2% in 2018 to 98.4% in 2022. An increase of 7.3% points in government school enrollment in the period 2018 to 2022.
Among class 8 students, the drop in basic reading ability was less as compared to observed trends in classes 3 and 5. "Nationally, 69.6% of children enrolled in class 8 in government or private schools can read at least basic text in 2022, falling from 73% in 2018," the report stated.
Lowest attendance in UP, MP and Bihar
The attendance patterns, both for children and teachers have remained steady over time. All-India (rural) figures for children's attendance remain close to 72%. However, there continues to be wide variation across states with UP, MP, Bihar, and Tripura among the states with the lowest attendance rates while Karnataka, Tamil Nadu and Maharashtra have over 86% enrolled students attending schools.
The report further highlighted the increase in the proportion of children in classes 1-5 taking paid private tuition classes from 26.4% in 2018 to 30.5% in 2022, reported Hindustan Times. "In Uttar Pradesh, Bihar, and Jharkhand, the proportion of children taking paid private tuition increased by 8 percentage points or more over 2018 levels," it said.
-INDIA NEWS STRAM