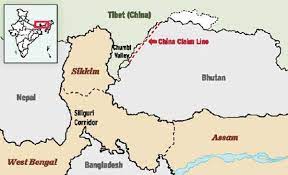 Bhutan Prime Minister Lotay Tshering said in an interview that China is party to the Doklam dispute and suggested that he was open to a three-way resolution on the matter.
In an interview, the Bhutanese PM said that Beijing has an equal say in finding solution, triggering concerns in India. "It is not up to Bhutan alone to solve the problem. There are three of us." Tshering added: "We are three equal countries. There is no big or small country." He said Bhutan was ready to discuss the issue as soon as the two other parties agreed. "India and China have problems all along their border. We are waiting to see how they resolve their differences," he said.
The plateau lies at the tri-junction of India, China, and Bhutan and tensions over the region have been high between the three countries since the 2017.
The statement contradicts Bhutan's stance elucidated in 2019 when Tshering said the "existing tri-junction point should not be disturbed unilaterally".
China has reportedly been trying to shift the tri-junction approximately seven kilometre south of Batang La to a peak called Mount Gipmochi. This would make the entire disputed plateau a part of China.
India sees China's occupation of the Doklam region as illegal and is opposed to its expansion in the region. This would mean China getting ensconced on the Doklam plateau, which will allow it a clear view of the sensitive Siliguri corridor, the narrow tract of land connecting mainland India with the north-eastern states, reported the Tribute. As per international maps, the tri-junction of Doklam at Batang La was never demarcated. The 1890 Sikkim-Tibet boundary treaty says Mount Gipmochi (14,300 feet high) shall be the point where Tibet and Sikkim territories converge, according to the Tribune.
In 1904, the British captured Tibet and in a 1906 treaty, they handed over the Chumbi valley to Tibet. Beijing has constructed villages and roads within Bhutanese territory, posing problems for India.
-INDIA NEWS STREAM