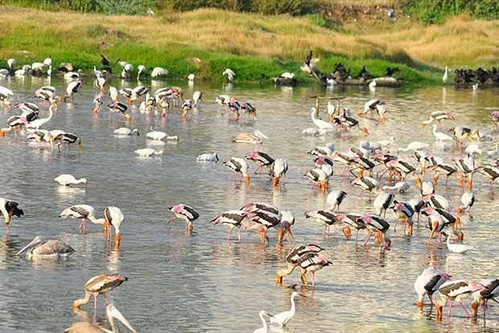 Chennai: The Pallikaranai marshland which has been recognised as a Ramsar site in 2022 is in the league of losing the status due to pollution in the marshland.
The wetland is polluted with sewage discharge and dumping of garbage from the nearby Perungudi garbage dump yard. If the government and the concerned environment and forest department of Tamil Nadu does not act, the site may lead to Pallikaranai entering the International black list,
Montreux Record.
The Ramsar Convention can act on its own to blacklist Pallikaranai if the garbage dumping and sewage discharge cannot be controlled.
Notably, Pallikaranai marshland was spread across 5500 hectares in 1965 and is now at a meagre 500 hectares or rather the marshland has shrunk to his situation at present.
The Perungudi dumpyard has taken up a large area of the Pallikaranai marshland in addition to the encroachments by government bodies like
National Institute of Ocean Technology and Centre for Wind Energy Technology.
Several Private parks and residential complexes have also eaten up the area of the marshland.
Leachate from Perungudi dumpyard enters the marshland leading to its pollution. It may be noted that IIT Madras had in 2021, set up a pilot
system to treat the leachate before it enters the marshland however funding for the project was stopped by the government and hence the project is
stalled now.
Environmentalists and social activists have called for setting up Sewage Treatment Plants (STPs) to treat the water that enters the marshland
from lakes.
According to reports, water from the lakes of Pallavaram, Velachery, Nanmangalam, Sithalapakkam, Perumbakkam, Agaramthen and
Okkiyampakkam enters the Pallikaranai marshland. It is to be noted that in many places sewage is let into freshwater drains which leads to lakes and polluting marshland.
C. Rajeev, Director, Centre for Policy and Development Studies, a think tank based out of Chennai while speaking to IANS said, " The Underground
sewage infrastructure must be tracked at a fast pace and every drop of water must be treated in STP before it enters the marshland."
Meanwhile, sources in the Tamil Nadu State Wetland Authority (TNSWA) said that the department has conducted a study using drones to mark the inner land use of marshland but the study reports have not yet been made public.
It is to be noted that there are 190 species of birds in Pallikaranai marshland of which 72 are migratory.
IANS