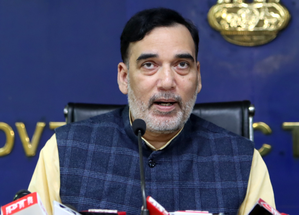 New Delhi: In view of the rising air pollution in Delhi-NCR, Delhi Environment Minister Gopal Rai on Monday said that the 'Odd-Even' vehicle system will be implemented for a week in the national Capital from November 13 to 20.
Addressing a press conference here after a high-level meeting with Chief Minister Arvind Kejriwal and several other senior officials, Rai said, "In view of air pollution, the 'Odd-Even' vehicle system will be applicable for one week from November 13 to 20."
He said that there is a complete ban on firecrackers in Delhi. "Despite the ban on firecrackers, today we have directed the police to be alert due to Diwali, World Cup match and then Chhath puja," he said.
Rai said, 'We also appeal to the BJP governments in the BJP-ruled states of Uttar Pradesh and Haryana to ban firecrackers to control the pollution in Delhi-NCR."
"During the meeting it was discussed that pollution may rise in the national Capital after Diwali. So a day after Diwali the 'Odd-Even' vehicle system will be launched for a week," he said and after that a review will be done.
"The AQI has been dropping since October 30 due slow winds and on November 5 it was 454 and today the AQI is 436," claimed Rai.
Rai also said that the ban on BS-III petrol vehicles and BS-IV diesel vehicles, as enforced in GRAP-4, will persist.
"All trucks, except LNG, CNG, and electric trucks carrying essential commodities and serving essential services, are prohibited from entering Delhi. In GRAP-3, exemptions were granted for demolition work on flyovers, overbridges, and power transmission pipelines, but now, these activities are also banned," he said.
Rai further said that according to the forecast, the wind speed is expected to reach 12 kmph on Tuesday, providing a potential opportunity for the dispersion of accumulated pollution.
"Similarly, on November 8, the wind speed is projected to be between 8 and 10 kmph. This increase in wind speed on November 7 and 8 should contribute to a reduction in pollution levels," he said.
"In 2015, in 365 days only 109 days were not in 'poor' quality and this year it has risen from 365 days to 206. We are also checking PUC certificate and more than 28,000 challans have been issued with aim to control polluting vehicles," said Rai.
Kejriwal had called a high-level meeting earlier in the day at the Delhi Secretariat with the Environment Minister, and other senior ministers along with several officers of the state government to discuss the ways to curb the air pollution in the national Capital.
IANS