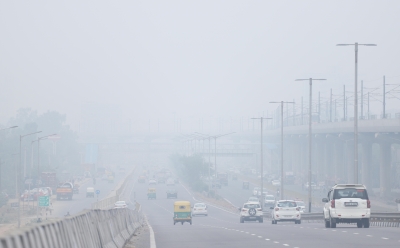 New Delhi: Most of the pollution related complaints of Delhiites are against three departments: Municipal Corporation, DDA and PWD, and the problems include potholes on the roads, illegal dumping of garbage on the roadside, road dust, construction and dumping of demolition waste, dust pollution caused by construction or demolition.
These complaints have come through the recently launched Green Delhi App, Delhi Environment Minister said here while releasing data of the app.
"With the help of Green Delhi App, about 94 percent complaints have been resolved so far. 42,147 complaints have been received on the app, with over 39,438 of them being resolved. The maximum number of complaints have been lodged about MCD, DDA and PWD. Any citizen of Delhi can complain about pollution through the Green Delhi App," he said.
He said, "So far the result of this app has been better than expected. And out of 42,147 complaints registered so far through this app, the department has resolved about 39,438 complaints. Most of these complaints have come about 3 departments, which include Municipal Corporation, DDA and PWD. Appropriate action is being taken by paying special attention to all these departments."
Rai added, "The most important link in the Summer Action Plan is Delhi Green App and Green War Room. Because the Green War Room directly connects 20 million people of Delhi in the war against this pollution. Through the app, any resident can file a pollution complaint with the war room. The government uses it to take further action. The Green War Room teams are keeping a close watch on all the recorded data of the Anti Road Dust and Anti Open Burning campaign. Based on which the deployed teams of all departments are taking appropriate steps."
While highlighting the merits of Green App, he said, "Till last year this app was available only on Android phones, today it is also available for iPhone (iOS) users. The app is a joint platform of 29 departments of Delhi. All complaints received on Green Delhi App are jointly processed with all the concerned departments. In which the departments of Central Government, Delhi Government, Municipal Corporation are also involved. A nodal officer has been appointed in every department to operate this app."
How does the Green War Room work
There are mainly three types of surveillance in the Green War Room for which different monitoring centres have been engaged. The reports of those centres are monitored daily from the war room. The Environment Minister said, "The DPCC engineers collaborate with the Green War Room to take action on ground and track it. In addition, there are 70 Green Marshals assigned to this war room who serve as a task force. Whenever a pollution complaint is received, the Green War Room's concerned department is notified. The concerned department sends a message to the Green War Room after fixing the issue. After that, the Green Marshal task team goes to the ground and verifies whether the matter has been fixed or not."
—-INDIA NEWS STREAM