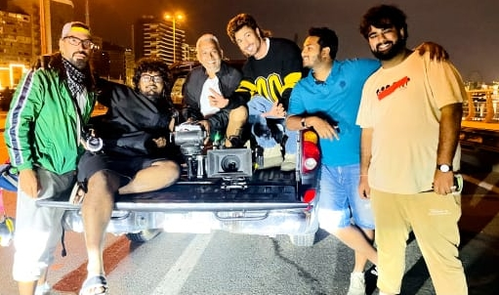 Mumbai: Action star Vidyut Jammwal and dancing diva Nora Fatehi are all pumped up for their next 'Crakk – Jeetega toh Jiyega' as they shoot for a week-long schedule in Azerbaijan.
The extreme sports film, directed by Aditya Datt, is based on two brothers, who are set to perform daring stunts mixed with extreme sports to win.
Talking about it, Vidyut said: "(I) believe that action is not just about performing stunts; it's about conveying emotion through your body language. It's about telling a story with every punch, kick, and movement. Action, to me, is an art form, and I'm passionate about mastering it."
The film is written by Sarim Momin and Rehan Khan. It also stars Arjun Rampal, Ankit Mohan, among others.
Vidyut and Nora shoot for a week-long schedule for their actioner 'Crakk'.
Shooting 'Crakk', Vidyut's highly anticipated second production, in the picturesque city of Baku, Azerbaijan, was nothing short of exhilarating for the team.
The city's diverse landscapes, from the bustling streets of the Old Town to the serene shores of the Caspian Sea, added depth and character to every frame.
Vidyut added: "Baku isn't just a location, it's a character in itself, a dynamic and integral part of the narrative that ensures the film will be an unforgettable visual treat for audiences worldwide."
IANS