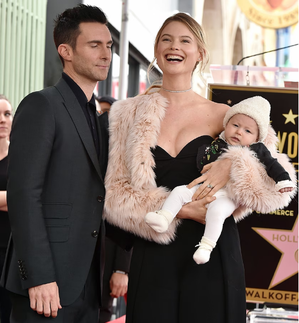 Los Angeles: Singer Adam Levine who recently rocked the floor at the Rock & Roll Hall of Fame ceremony alongside his wife Behati Prinsloo has now finally revealed the sex of their newborn child a year after its birth, revealing that it is a boy.
While the couple did not reveal their newborn son's name, they have confirmed that the latest addition to the happy family is a boy and they chose not to reveal his sex due to their own personal reasons, according to People.
Before they walked the red carpet at the acclaimed music festival prior to the Maroon 5 singer's performance, Prinsloo, 35, told The Mother Daze podcast hosts Sarah Wright Olsen and Teresa Palmer had detailed her experience on childbirth, calling it one 'rollercoaster of emotions'.
Stating that Levine was with her through the entire delivery process, she said: "It was his favourite thing to watch and to be there and to help me through it … and people telling him what to do to help me too," Prinsloo explained. "Like the doula… putting him there where she would have been … just really making this into such a beautiful experience for everyone."
Throughout the past 11 months, the couple have shared photos of their baby with his big sisters Gio Grace, 5, and Dusty Rose, 6½, though they never revealed his sex.
The couple appeared on the 38th red carpet of the organisation's induction ceremony during which Levine performed singer George Michael's song Faith".
In addition to Michael, the November 3 night ceremony celebrated the other 2023 inductees which included Sheryl Crow, The White Stripes, Missy Elliott, Cyndi Lauper, Iron Maiden, Willie Nelson, Rage Against the Machine, A Tribe Called Quest, Warren Zevon, Soundgarden, The Spinners, Kate Bush and Joy Division/New Order.
IANS