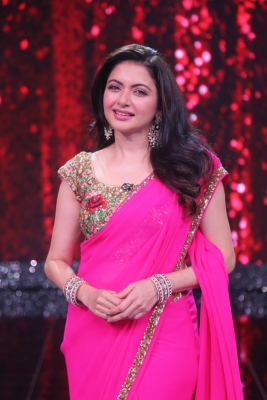 Ayodhya (UP): Bollywood actress Bhagyashree will be seen in the role of Vedvati in the Ramlila this year.
The actress had essayed the role of Sita briefly last year. Vedvati, according to Hindu mythology, is the previous birth of the goddess Sita, who had cursed Ravana that she would become the reason for his death in another life.
According to the organisers, Bobby Malik, director of Ayodhya Ramlila, said: "Each episode of Ramlila will be telecasted live on YouTube channel, Doordarshan and other social media platforms while many senior artistes from Delhi and Mumbai will be performing here."
Malik also claimed that last year, this Ramlila of Ayodhya was watched by over 25 crore spectators on social media.
Political and Bollywood celebrities from many states will come to the 11-day event.
Bollywood producer Boney Kapoor will be among the viewers this time, Malik claimed.
Meanwhile, the traditional Ramlila in Ayodhya, which has been a calendar event in Ayodhya during Dussehra for over six decades now, returned to the stage after an enforced hiatus because of the Covid-19 pandemic.
A calendar event since 1964, the Ramlila was last staged on October 17, 2021. However, it was stopped thereafter after the novel coronavirus pandemic confined millions across the country indoors and locked down cities.
The seer of Ayodhya and Hanumangarhi, Sanjay Das, Mahant Bindu Gaddacharya of Dashrath Mahal temple, Mahant Rasik Peethadhishwar of Janaki Mahal temple, Mahant Avadhesh Das Ji Maharaj of Bada Bhakta Mahal temple, along with political leaders including Ayodhya's MP, Mayor and MLAs have been witnessing the Ramlila.
IANS