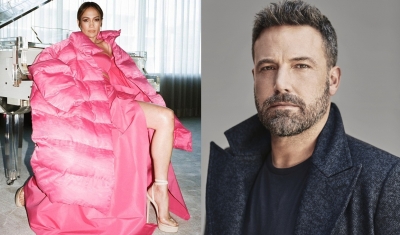 Los Angeles, March 17 (IANS) Hollywood star Ben Affleck finally revealed what he and singer-actress Jennifer Lopez were whispering about during the viral moment at the Grammy Awards 2023.
The A-list duo took the internet by storm when they were spotted having a seemingly tense exchange during the glitzy awards show at the beginning of February while host Trevor Noah filmed a segment next to them, reports mirror.co.uk.
People were convinced that the Get Right singer 'snapped' at her husband Ben, 50, while they 'didn't know the cameras were rolling'.
Over a month later, Ben has stepped forward to set the record straight on the awkward television moment.
"I saw (host Trevor) and I was like, 'Oh God.' They were framing us in this shot, but I didn't know they were rolling," the actor explained.
"I leaned into her and I was like, 'As soon they start rolling, I'm going to slide away from you and leave you sitting next to Trevor.'"
He added to The Hollywood Reporter: "(JLo) goes, 'You better f***ing not leave.' That's a husband-and-wife thing."
The original video showed Ben leaning in towards Jennifer while whispering something in her ear. She then quickly moves away.
Her expression quickly changed after clocking live television cameras are pointed right in her direction as she sits up straight and laughs at Trevor's jokes.
Another shot seems to show Ben talking to Jennifer as she somewhat blanks him, turning her attention to her mobile phone on the table.
People were so invested in the supposed drama that lip readers and seat fillers chimed in on the conversation.
A seat filler took to TikTok to explain what really happened and it wasn't as negative as people portrayed it to be.
"JLo showed Ben Affleck the phone and was like, 'Oh my God, honey. Look at this meme circulating about you' and he was like, 'Oh God, this again'. He knew during the performance that he was a meme. He knew and just chose not to change his expression."
She added: "I know she was on her phone and saw it and was like, 'honey, this is so funny. Look at this'.
According to the seat filler, they were 'super lovey dovey' and their 'hands were always intertwined'.