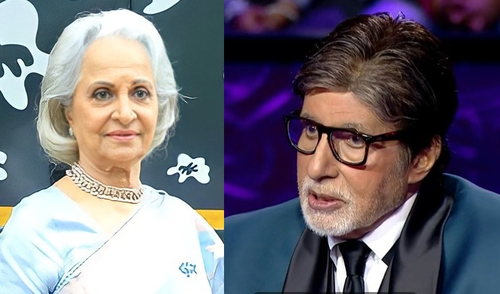 New Delhi: Megastar Amitabh Bachchan revealed makeup technique of one of the Hindi Cinema's highly accomplished actress Waheeda Rehman, telling about her favourite make-up accessory.
In the episode 36 of the quiz-based reality show 'Kaun Banega Crorepati' season 15, host Amitabh Bachchan welcomed Richa Kusum Singh from Delhi, to the hot seat.
For Rs 1000, she was asked: Which of these words refers to a small round metal case, often containing a mirror and powder?
The options were: Brief, Compact, Backpack and Kajal. The correct answer was 'compact'.
Big B said: "Whenever someone generally women, wants to do quick make-up, they pull out the compact. It's in their bag. And lipstick, kohl."
The contestant said: "Yes, it's a must. Yes I can't leave home without that."
The 'Mard' fame actor said: "Women are so attached to it. Why do you need to carry it?"
To this, she replied: "Sir, a touchup is required to look pretty."
Big B said: "Tell me something, Madam, it has such a small mirror, you can't even fit an eye there, how do you see your entire face in it?"
Amitabh then went on to narrate an anecdote about his 'Kabhi Kabhie' co-star Waheeda Rehman.
He said: "Okay, let me share something. You know Waheeda ji? She does her entire make-up with this. She has a favourite. It accompanies her everywhere for makeup. It's small."
"Let me tell you that many artists have four people just to hold mirrors for them. The mirror is so big. Almost till the floor. Before the shot, the feet, pants, everything must be visible. I won't tell you the name of the artist or else I'll be beaten up. But Waheeda ji's small mirror and that person's big mirror. So, everyone has their preference," he added.
Recently, Waheeda Rehman's name has been announced for the 'Dadasaheb Phalke Award' 2023.
IANS