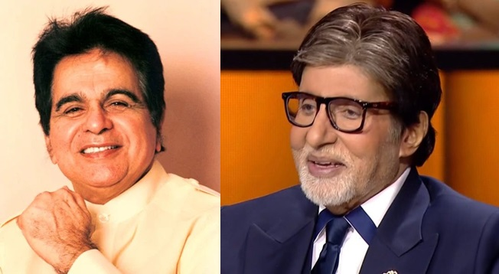 New Delhi: In a display of admiration towards 'Abhinay Samrat' Dilip Kumar, megastar Amitabh Bachchan shared how the former was offered three screen names, calling him an extraordinary artist and human being.
Born as Mohammed Yusuf Khan, Dilip Kumar was credited with pioneering method acting in cinema. With a career spanning over five decades, he holds the most dominant box-office record for a star in Hindi cinema.
In the episode 32 of the quiz-based reality show 'Kaun Banega Crorepati' season 15, host Amitabh Bachchan welcomed Pinki, a homemaker from Hisar, Haryana, to the hot seat.
For the 12th question for the amount of Rs 12,50,000, she was asked: Which of these names was one of the options suggested to Yusuf Khan as his screen name before he took up the name Dilip Kumar?
The options given were – Akbar, Shah Jahan, Babur and Jahangir.
Big B said: "I'm the biggest fan of Dilip Kumar. But even I don't know, about this."
The contestant decided to quit as she was not sure of the answer. The correct answer was Jahangir.
Amitabh said: "Dilip Kumar's real name is Yusuf Khan as we just mentioned. When he was signed for a film, he was told that he would, need a screen name."
"Devika Rani, a distinguished actress and Bhagwati Charan Verma, he was a distinguished writer and poet and is known to date, they gave him three options – Vasudev, Dilip Kumar, and Jahangir. Dilip Sahab didn't choose Jahangir. However, after many years, in a film called 'Mughal-e-Azam', he played the role of Jahangir," said Big B.
The actor went on to say: "I'm a big fan of Dilip Kumar I've always believed that when the history of Indian cinema will be written, it will be Before Dilip Kumar and After Dilip Kumar."
The contestant then said: "Also, another thing will be mentioned, Sir. Something more will be written. Before Amitabh Bachchan and After Amitabh Bachchan."
To this Big B replied: "I'm nothing compared to him. He was an extraordinary artist and human being. What do I say? To praise him, I'll have to take up an entire show."
'Kaun Banega Crorepati 15' airs on Sony.
IANS