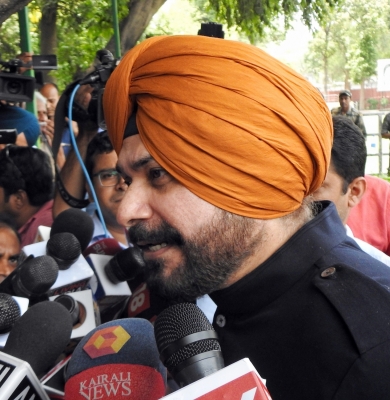 New Delhi: Former Punjab Congress chief Navjot Singh Sidhu on Monday said that there cannot be an alliance where there are ideological differences, even as the Punjab leadership met party chief Mallikarjun Kharge here to discuss the support over ordinance to the AAP.
The meeting was attended by former party chief Rahul Gandhi, Amrinder Raja Warring, Sukhjinder Singh Randhawa, Partap Singh Bajwa, Harish Chaudhary, Sidhu and several others.
After the meeting, Sidhu, when asked about the alliance with AAP in the state for 2024 Lok Sabha elections, in a cryptic reply said, "An alliance cannot be formed if there are ideological differences."
"And I am clear about it as my fight is for the truth and I am following this and I do not compromise on moral values. Moral values are at the lowest ebb because democratic values have been dismantled," Sidhu said.
Meanwhile, several other party leaders said that whatever they have to tell on the issue they have conveyed to the party leadership and that cannot be disclosed in public.
Many Congress leaders from Delhi and Punjab have opposed supporting Kejriwal over the ordinance issue. Senior COngress leaders like Ajay Maken, Sandeep Dikshit and Sukhjinder Singh Randhawa have already echoed that the party should not support AAP.
Earlier in the day, during the Delhi meeting, many party leaders told Kharge not to have alliance with AAP for 2024 polls and also not to support it in the ordinance issue.
IANS