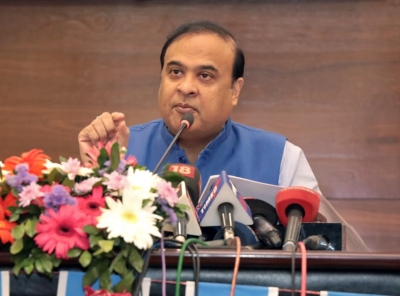 Guwahati: Assam Chief Minister Himanta Biswa Sarma received the Geographical Indication Registration Certificate for Asomiya Gamosa.
At a ceremony conducted at Sarusajai Stadium in Guwahati on Thursday, CM Sarma was presented with the certificate by the Controller General of Patent, Designs and Trademarks and Registrar of GI Registry, Dr. Unnat P. Pandit.
The GI Registration is for eight Gamosa, namely Uka or Xadharan Gamosa, Phulam Gamosa, Bihuwan, Tiani or Pani Gamosa, Anakata Gamosa, Telos Gamosa, Dora Boron or Jor Gamosa, and Gossain Gamosa.
After the GI Registration, others are not allowed to make or market the product. The registration is a legal acknowledgment of the goods for a certain geographic area or territory.
Millions of weavers in the state will be protected due to the GI Tag.
Chief Minister Sarma said, "I received the GI Tag for our pride, the Asomiya Gamosa. It is a moment of honour and pride for the people of Assam."
"Thanks to this accolade, Assam will be able to legally recognise and maintain the quality and individuality of our pride, Asomiya Gamosa. It will guarantee the defence of our weavers' interests," he continued.
IANS