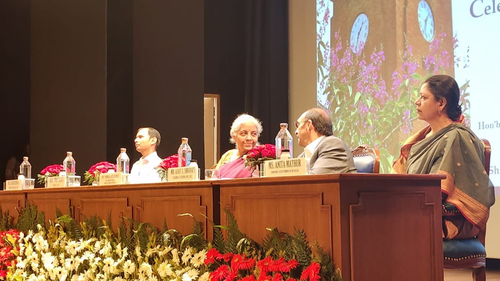 New Delhi: Finance Minister Nirmala Sitharaman on Thursday said that the inclusion of Indian bonds in JPMorgan's emerging market debt index could attract inflows worth $23 billion in the country.
Addressing the annual day function of Shri Ram College of Commerce (SRCC), she said that this is the kind of impact which such a development can have on Indian markets.
In September, JPMorgan Chase had said that it will add Indian government bonds to its benchmark emerging-market index from June 2024, which is a much-anticipated move expected to invite further foreign investment into India's domestic debt market.
Meanwhile the Finance Minister said that India will soon become the world's third largest economy, from being the 10th largest economy in 2013-14. She further advocated for reforms in international agencies like World Bank and the IMF, saying that these institutions need to adapt to changing requirements of the prevailing times.
Sitharaman noted that due to political stability and sound policy making, the Indian economy is moving ahead on the path of development. "In terms of availability of fertilisers, food and fuel, there is a lot of uncertainty, as today we don't know whether food grains will be supplied through the Black Sea route or through some other route. The situation is quite volatile as the entire global supply chain has been disrupted," she said.
IANS