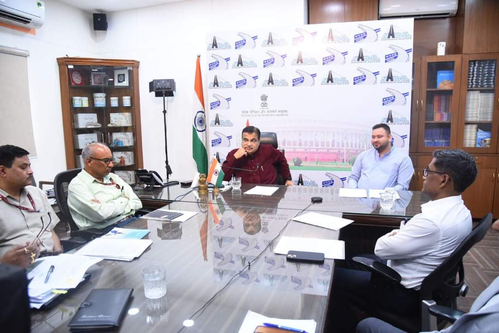 New Delhi: Bihar Deputy Chief Minister Tejashwi Yadav met Minister for Road Transport and Highway Nitin Gadkari on Thursday and demanded an expressway for his home state.
Talking to media persons Tejashwi Yadav said, "We had a very positive conversation with the minister and had a discussion about the projects which were on hold since last 11 to 12 years in Bihar. We also discussed the road projects of Bihar."
"There is no expressway in Bihar. So we have demanded for an expressway for which Gadkari has responded positively," Deputy Chief Minister said.
He also shared agenda of his meeting with the minister on X.
"We have demanded for construction of Buxar to Bhagalpur Expressway, a bridge parallel to JP Setu on the river Ganges. Elevated corridor between Patna to Koilwar and Anisabad to Didarganj. Also long pending projects like Patna-Gaya, Hajipur-Chhapra, Maheshkhunt-Saharsa-Purnia National Highway were also dicussed. We also discussed the early completion of Muzaffarpur bypass," the Deputy Chief Minister wrote on X.
Notably, the Bihar state plans to extend Uttar Pradesh's 341km long Purvanchal Expressway to Bhagalpur, located near the eastern border of Bihar, via the state capital Patna.
The 350-kilometre Buxar-Bhagalpur expressway plan will connect Buxar in west Bihar bordering Uttar Pradesh to Bhagalpur in east Bihar.
IANS