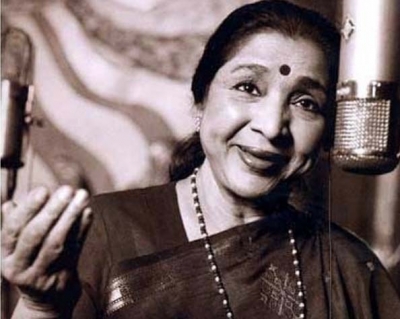 Mumbai: Singer Asha Bhosle, who carved out her own independent niche and ruled the roost over the world of music, turns a ripe old 90 on Friday, and notwithstanding a long and eventful musical journey of eight decades, neither her vocal cords are tired nor has she retired…
It was back way, some 80 years ago, when a petite 10-year-old girl Asha Mangeshkar earnestly stood before a studio microphone and recorded her first playback song for composer Datta S. Davjekar, 'Chala Chala Nav Bal…' for a Marathi film ('Majha Bal' – 1943).
Though it came just a year after her father Pt. Deenanath Mangeshkar's passing (1942), Asha's maiden number did not exactly set the film industry on fire but she continued to get humdrum singing assignments, and like her older sibling Lata Mangeshkar, continued the uphill musical sojourn.
After many Marathi songs, she finally landed a Hind film song assignment for 'Chunariya' (1948), and then a solo in Hindi for 'Raat Ki Rani' (1949), but the struggles were yet to end.
She continued to render side-y type of songs for junior artistes or dancers, and mostly for tier-II films or composers, many frowning at her voice which would not jell with most heroines of the day, or getting overshadowed by other popular voices in those times.
The big moment, and number, came with an established male singer Mohammed Rafi for 'Boot Polish' (1954), when they crooned the evergreen number, 'Nanhe Munne Bachche Teri Mutthi Me Kya Hai', which caught and turned the nation's ears to Asha's voice.
That was an era dominated by female stalwarts like Noorjehan (who later moved to Pakistan), Suraiya, Geeta Roy-Dutt, Shamshad Begum, Zohrabai Ambalewali, Mubarak Begum and more, and even Lata had to jostle through the crowd to make her voice heard.
Perhaps, it was the legendary Omkar Prasad Nayyar who proved to be the turning point for Asha when he made her sing 'Leke Pehla Pehla Pyaar' ('CID', 1956) with Rafi and it was a runaway hit, along with other songs by Shamshad Begum and Geeta Dutt.
Presumably patting himself for his choice, Nayyar deployed Asha's voice in all the female lead numbers for 'Naya Daur' (1957) which bagged him his first Filmfare Award (1958).
"Then I worked extensively with Asha… People ask me why I never signed Lata to sing… I found Lata's voice 'too thin' and unsuited for my style of music, unlike the other female singers of that era," chuckled Nayyar in a 1997 interview with this correspondent.
He spoke with pride, how he was "the only" music director to achieve heights of success without ever using Lata Mangeshkar, but exploited the silvery rich voices of others like Asha Bhosle, Geeta Dutta, Shamshad Begum, etc.
Khayyam once narrated to this correspondent how composing for 'Umrao Jaan' (1981) was a big challenge for him, coming barely 9 years after the mega-hit musical 'Pakeezah' (1972), both centering around the shunned theme of 'tawaifs'.
"The filmmakers and I decided that not only would 'Umrao Jaan' look different but also sound different… So I made Asha sing all the songs, with certain changes in her singing style. Fortunately, it was received very well," Khayyam said modestly, the occasion was when Asha was named for the Dadasaheb Phalke Award (2000).
However, compared with 'Pakeezah', not only did 'Umrao Jaan' stand on a different pedestal in public minds, but also won four National Awards (1982) including for Khayyam as Best Music Director and Asha ('Dil Cheez Kya Hai').
Over the decades, Asha soared the musical skies with strength with her unique singing gait, flitting from notes to melodies to symphonies to fusion, winning hearts and minds, and edged firmly into the formidable 'G5 of Music' – Rafi-Kishore-Mukesh, Lata-Asha.
Unshackling her voice from traditions, Asha reached heights of popularity, effortlessly singing in different genres ranging from regular songs, ghazals, bhajans, qawwalis, pacey-husky-sexy numbers, cabarets, pop, fusion, et al.
In fact, one of her qawwalis composed by Roshan – 'Nigaahen Milane Ko Jee Chahta Hai' ('Dil Hi To Hai' – 1963), remains among among the Top 5 in the genre since.
So much so that other 'conservative' composers like Naushad Ali, Madan Mohan, Jaidev, Roshan, composed songs specially for her or took her voice for certain difficult ones, besides of course, Nayyar, Mohammed Zahur Hashmi 'Khayyam', 'Ravi' Shankar Sharma, S. D. Burman, Shankar-Jaikishan, Laxmikant Pyarelal, Kalyanji-Anandji, Sonik-Omi, Rakesh Roshan, R. D. Burman and Ravindra Jain.
Then came the era of the modern brigade of Bhappi Lahiri, Ilaiyaraja, A. R. Rahman, Anu Malik, Jatin-Lalit, and many others… even as music tastes shifted from the soothing melody to sheer cacophony…
Simultaneously, her sister Lata also became a trail-blazer, as the senior singers faded away and she competed with the younger era of women crooners.
Asha made international waves, too, becoming the first Indian Grammy nominee (2006), collaborating with albums with global artistes and cricketer Brett Lee ('You're the One for Me' – 2006), belting songs in nearly two dozen Indian and foreign languages, bagging the prestigious Dadasaheb Phalke Award and Padma Vibhushan among many other awards and honours, et al.
Besides the recording studios, she is ranked a MasterChef par excellence, dishing out yummy gourmet cuisine for celebs and runs a global chain of restaurants, Asha's for over a decade.
On the occasion of awarding the 'Lata Deenanath Mangeshkar Award' to Prime Minister Narendra Modi in April 2022, Asha apparently gathered courage to open up her heart before the audience, and regaled them, oft tongue-in-cheek with many little known or unknown facets of her Bharat Ratna Didi's life and times.
IANS