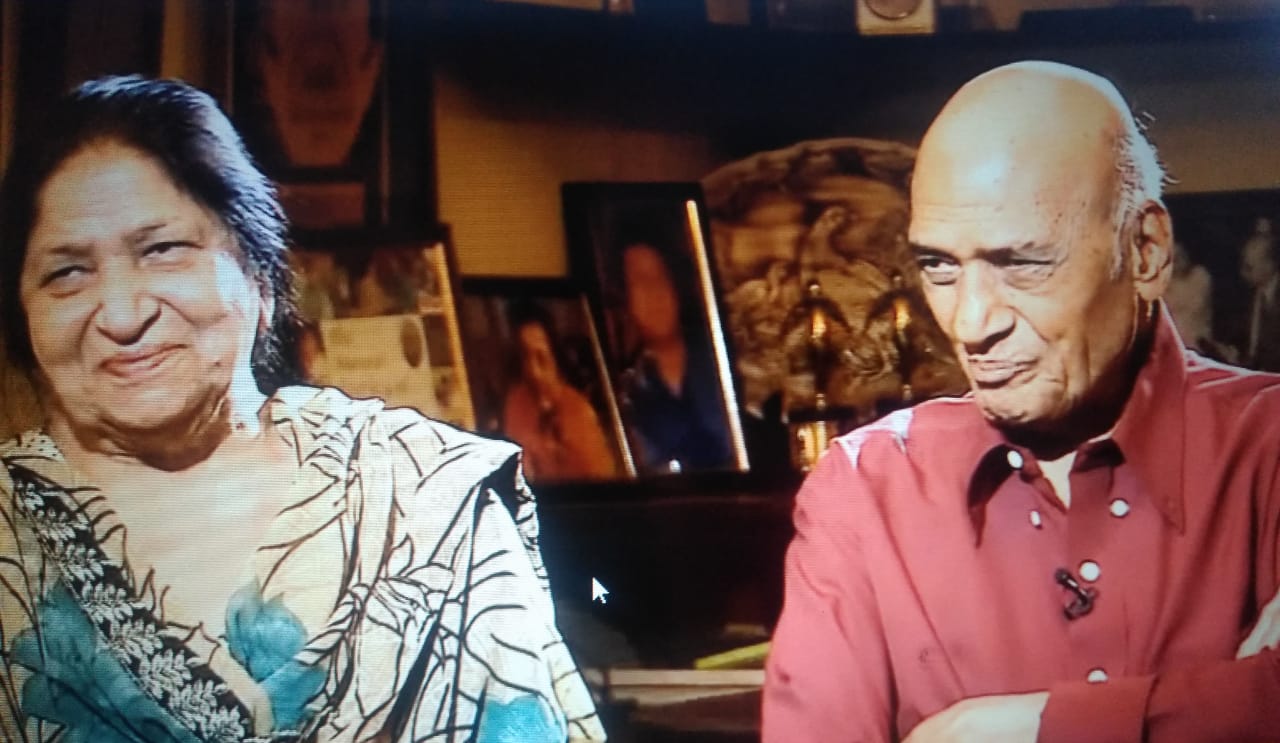 'Dekh lo aaj humko jee bhar ke, koyi aata nahin phir mar ke' – this poignant and heart-rending song of Hindi classic movie 'Bazaar' (1982), which beautifully portrays the pangs of separation suffered by lovers, enjoys a pride of place in the collective consciousness of music buffs.
The lyric by Mirza Shauq, betraying the emotions of a young woman (Supriya Pathak) who is getting married to a middle-aged man and bidding a final goodbye to her lover (Farooq Shaikh), was rendered in the soulful and haunting voice of Jagjeet Kaur and composed by none other than her husband and great music director Khayyam.
Another immortal song rendered by Jagjeet Kaur, who passed away recently (on August 15), was 'Tum apne ranj-o-gham, apni pareshani mujhe de do' from 'Shagoon' (1964). This number, written by Sahir Ludhianvi, was also composed by Khayyam and went on to become a cult classic.
Khayaam, who died on August 19, 2019, had once said 'Tum apna ranj-o-gham' alone was enough to make Jagjeet Kaur immortal in the annals of music.
On Khayyam's second death anniversary, let's pay a tribute to this highly talented couple, while revisiting the unforgettable songs they created together.
While Khayyam has left behind a formidable treasure of memorable melodies after a long innings as a music director, Jagjeet Kaur made an indelible imprint on the minds of listeners just by the virtue of her soulful rendition of a handful of songs she crooned for Hindi films.
Jagjeet Kaur, who was born on November 1, 1931 in a village in Hoshiapur district of Punjab, belonged to an aristocratic family. She started singing for All India Radio, Lahore, and later feautured on Jalandhar and Delhi stations.
She began her playback singing in Hindi films with 'Dil-e-Nadan' (1953) and her number 'Khamosh zindagi ka afsana mil gaya' made it to the popularity charts. In 'Shola aur Shabnam', her song 'Pehle to aankh milana' became highly popular.
'TUM APNA RANJ-O-GHAM'
However, the real magic of her voice came out in collaboration with her husband Khayyam in the timeless wonder 'Tum apna ranj-o-gham'. The couple got married in 1954.
In an article published in the book 'Khayyam: The Man-His Music', edited by Vishwas Nerukar and Vishwanath Chatterjee, Jagjeet Kaur recalled how the song 'Tum apne ranj-o-gham' fell in her lap when the singer who was initially supposed to render it did not turn up.
"Sahir Ludhianvi asked Khayyam Sahab to get it done in my voice. Sahir ji had not written the full lyrics. When I reached the studio, he penned down the lyrics of the stanza 'Main dekhun to sahi duniya tumhe kaise satati hai. The song was okayed in the fourth take," she added.
'SAADA CHIDIYAN DA CHAMBA VE'
In 'Kabhi Kabhi' (1976), Jagjit Kaur came up with another chart-burster 'Saada chidiyan da chamba ve' under the baton of Khayyam again. In this song, her co-artiste was Pamela Chopra, wife of celebrated director Yash Chopra.
'KAAHE KO BYAHI BIDES'
The couple came up with another unforgettable number 'Kaahe ko byahi bides, arre lakhia babul more' in Umrao Jaan (1981), directed by Muzaffar Ali.
WHEN JAGJEET KAUR IMPRESSED NEHRU
Recalling a show where the then Prime Minister Jawaharlal Nehru was scheduled to make a brief appearance, Jagjeet Kaur wrote that when she sang her first song, 'Jogi uttar pahaadon aaya', Nehru ji was greatly impressed.
"He said to the organisers: 'I like her voice. Please arrange for her to sing all her songs before anybody else comes on.' Due to this request, the organisers were thrown into a flurry of activity. Then I sang all my songs in a row. Pandit Ji then remained in his seat for an hour and a half. My joy knew no bounds on that day and in that state of ecstasy, I forgot to meet Pandit ji personally. Nevertheless, I shall always cherish those golden moments of my life," she added.
LOVE AT FIRST SIGHT
Remembering their interfaith marriage, Khayyam said in an interview, "I first saw Jagjeet ji on the Dadar bridge coming from the opposite side. I was enchanted by her beauty. I was just ogling at her. She passed by and after covering some distance gave me a stern look as we didn't know each other."
He added, "Then we spotted her at a singing show where my friends drew my attention to her talent. Then we started meeting occasionally. We gradually came closer and unwittingly fell in love. When I met her father and our marriage was fixed. Her father told me 'Now onwards, you will no longer be Khayyam Hashmi only, you will be Khayyam Singh also.' I readily agreed to be Khayyam Singh as well."
MADE FOR EACH OTHER
Recalling his wife's consistent support to him through thick and thin, the music director, in an interview with Rajya Sabha TV, cited a stanza from 'Tum apane ranj-o-gham': "Main dekhun to sahi duniya tumhe kaise sataati hai, koyi din ke liye apni nighebaani mujhe de do. (I will make sure the whole world cannot trouble you. Put yourself under my care for some days). These words of Sahir aptly describe my relationship with Jagjeet ji…That's how she took care of me whenever any trouble befell on me."
In 2016, the couple formed a trust for the welfare of the needy singers, lyricists and other artistes, and donated all their wealth, around Rs 10 crore, for the purpose
Their only son Pradeep Khayyam, who acted in some movies, including 'Jaan-e-Wafa', and assisted his father, died following a heart attack in 2012.
—INDIA NEWS STREAM