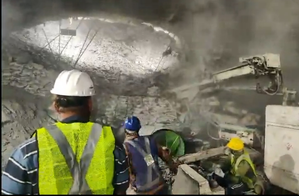 Uttarkashi: First images of labourers, who were trapped for more than a week in under construction Silkyara Bend – Barkot tunnel in Uttarakhand's Uttarkashi district, have emerged on Tuesday and show all of them are safe.
The video was shot with the help of endoscopic flexi camera.
In the video, it can be seen that all workers are safe, providing relief to all, especially trapped labourers families.
The workers were contacted via WiFi walkie talkie in which they demanded evacuation as soon as possible.
Uttarakahand Chief Minister Pushkar Singh Dhami has also spoken to officials working at the site.
On November 12, it was reported that a portion of the under-construction tunnel from Silkyara to Barkot collpased due to debris falling in the 60 metre stretch on Silkyara side of tunnel.
IANS