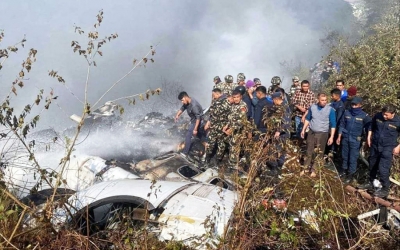 Kathmandu : The death toll in the plane crash tragedy in Pokhara of Nepal's Kosaki district mounted to 68.
"The bodies of 64 victims have been taken to the Pokhara Academy of Health Sciences in the city," Kaski Police Chief Superintendent Ajay K.C. was quoted as saying by The Kathmandu Post.
Academy director Bahadur Khatri said that the procedure to identify the bodies is on."
A total of 68 passengers and four crew members were on board the aircraft that crashed between the old airport and the Pokhara International Airport, Sudarshan Bartaula, spokesperson of Yeti Airlines.
According to the Civil Aviation Authority of Nepal (CAAN), the passengers included 53 Nepalis, five Indians, four Russians, one Irish, one Australian, one Argentinian, two Koreans and one French.
Meanwhile the Indian embassy issued helpline numbers, saying that it is in touch with local authorities and monitoring the situation.
Helpline numbers issued by the Indian Embassy are
1. Kathmandu: Diwakar Sharma: +977-9851107021
2. Pokhara: Lt Col Shashank Tripathi: +977-9856037699
An ATR 72 aircraft of Yeti Airlines with a call sign 9N-ANC that took off to Pokhara from Kathmandu at 10.32 a.m. crashed at Nayagaun of the city.
The Nepal government has announced a national mourning on Monday.
The government has also formed a five-member team to investigate the plane crash, in which most of the passengers are presumed dead.
IANS