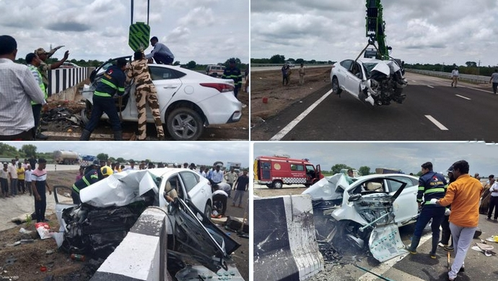 Chhatrapati Sambhajinagar: At least 15 persons were killed and another 23 injured in two separate accidents involving a speeding truck and a bus, and a private car, on the Mumbai-Nagpur Samruddhi Expressway on Sunday, police said.
President Droupadi Murmu, Prime Minister Narendra Modi, Chief Minister Eknath Shinde, Maharashtra Opposition leaders and others condoled the deaths of the passengers in the accident.
PM Modi announced Rs 2 lakh to the kin of each deceased and Rs 50,000 for the injured, while Shinde declared Rs 5-lakh compensation for the fatal victims and full free treatment to all the injured in the tragedy.
An official said that the first accident occurred around 1.15 a.m. when a passenger mini-bus was proceeding from Buldhana to Nashik via Chhatrapati Sambhajinagar (Aurangabad) after a pilgrimage.
"The bus was coming from Buldhana to Chhatrapati Sambhajinagar and had halted for some time on the side of the highway, and suddenly the truck rammed it from behind. At least 12 passengers have perished in the crash and 23 more injured," said the official.
The victims were en route to their homes in Indiranagar, Nashik after performing a pilgrimage at the famed Sailani Baba Dargah in Buldhana.
The injured have been rushed to hospitals in Chhatrapati Sambhajinagar, some to Nashik and a few critical cases to Pune, the official added.
Among the fatal victims are two minor children and there are eight women among the injured, in the crash that took place a short distance away from the Jambargaon Toll Booth on the Mumbai-Nagpur Samruddhi Expressway which lived up to its notorious reputation.
In the second accident, a car carrying the family members of an All India Majlis-E-Ittehadul Muslimeen (AIMIM) leader crashed on a divider killing three occupants on the spot.
Chhatrapati Sambhajinagar AIMIM MP Syed Imtiaz Jaleel said that the deceased were from the family of the party's state General Secretary, Syed Moin.
According to some reports, the mini-bus was halted by the highway patrol or the local RTO when the truck crashed into it, and officials said they would probe this aspect.
Shiv Sena (UBT) Leader of Opposition Ambadas Danve and MP Sanjay Raut slammed the state government for the non-stop series of fatal accidents occurring on the Samruddhi Expressway, giving it the reputation of a 'killer highway'.
"The government is responsible… This is not an accident, it's a murder," said Danve after visiting the spot and the patients in the hospitals.
"The Samruddhi Expressway was built and inaugurated hurriedly without providing for proper facilities and Shinde and Devendra Fadnavis claimed full credit for, now the concerned ministers must take responsibility and should be sacked for this tragedy," demanded Raut.
The accident evoked sharp reactions from Congress, Nationalist Congress Party, AIMIM and other parties, besides activists.
IANS